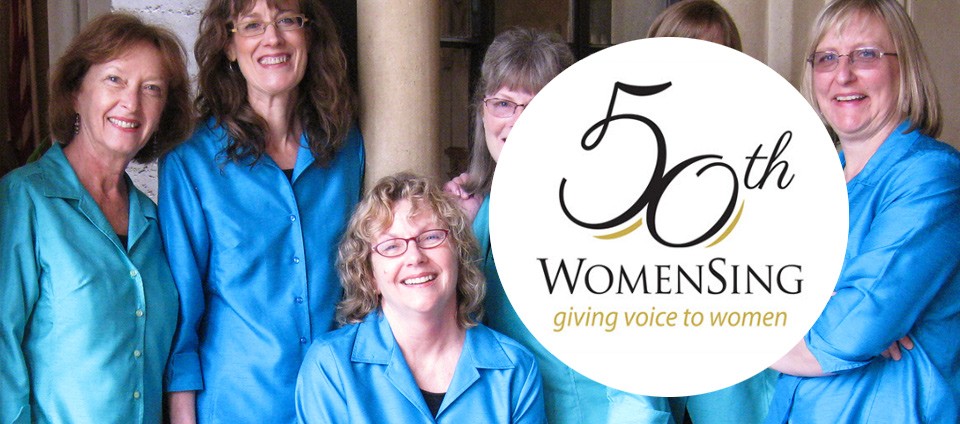 Welcome to WomenSing's 50th season, "Giving Voice to Women"! This season promises to be full of our signature blend of traditional and unexpected gems, some new, some pulled from our past. We have chosen five women to honor for their contribution in the various arts, from music to literature to architecture: Hildegard von Bingen, Julia Morgan, Maya Angelou, Alice Parker, and Julia Gárgano. We'll celebrate with a grand gala in October, featuring soprano Karen Anderson and mezzo-soprano Jessica Deardorff Elder, accompanied by our own Paul Caccamo. We'll be visited by some of our favorite choral artists and composers, including the legendary Alice Parker, who will participate in our Treble Voices Now festival in April.
Here's a brief rundown on dates and events—start marking your calendars!
September 19, 2015, at 11:30 AM: WomenSing Ensemble performance at the Lafayette Art and Wine Festival in Lafayette. Look for them at the KidZone stage at 11:30 am.
October 18, 2015, at 4:30 PM: 50th Anniversary Gala, Pleasant Hill Community Center.
December 13, 2015, at 4:00 PM: Make Good Cheer concert, First Congregational Church, Berkeley
December 16, 2015, at 8:00 PM: Make Good Cheer concert, St. Mary's College Chapel, Moraga.
April 16, 2016, at 3:00 PM: Treble Voices Now choral festival free concert, featuring WomenSing, Contra Costa Children's Chorus, Voci, Miramonte High School Bella Voce and Singers Marin's Wings of Song, First Congregational Church, Berkeley
June 5, 2016, at 4:00 PM: To Give Voice concert, First Congregational Church, Berkeley
June 8: 2016, at 8:00 PM: To Give Voice concert, St. Mary's College Chapel, Moraga