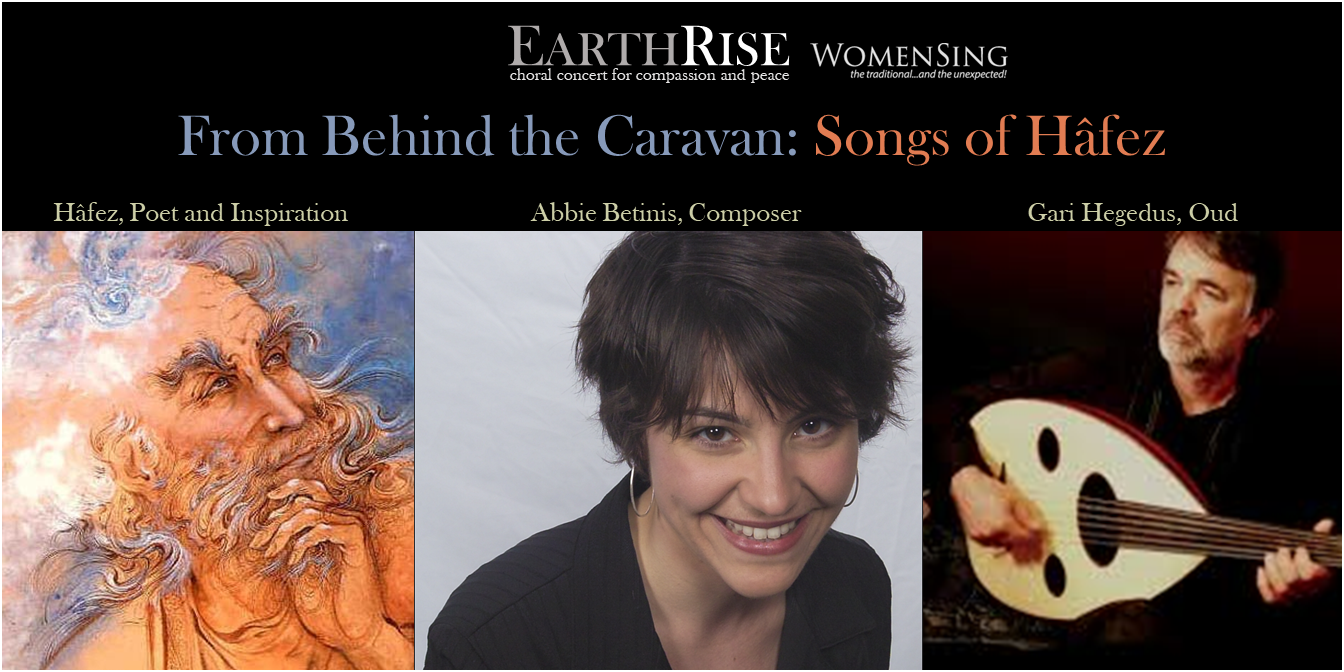 "We, to this door, seeking neither pride nor glory... we have come."
The writings of 14th century mystic poet, Khwâja Hâfez-e Shirazi ("Hâfez"), were the inspiration for Abbie Betinis's "From Behind the Caravan: Songs of Hâfez". Hâfez, born in Shiraz, Persia (now known as Iran), based his poetry in the tenets of Sufism. Sufism is an Islamic mystical tradition focusing on the personal journey toward union with God. Themes found in Hâfez's poetry include the love of humanity and contempt for hypocrisy.
The specific stanzas of Hâfez's writing selected by Abbie Betinis speaks as much to the issues of today as those of Hâfez's time, and Betinis's music brilliantly accentuates those themes, showing beauty, urgency and spirituality by turns.
The entire piece, in our mind, speaks to the most humanitarian crises of our times. Specifically, the first movement carries the refrain "Amadeim", which means "we have come", and echoes the cries of so many millions throughout the world who, having been driven from their homes by diminishing resources and war, find themselves at others' homes, begging for entry. "We, to this door, seeking neither pride nor glory... we have come. For shelter from ill-fortune, here... we have come." In the second movement, we hear the soothing refrain "Qam ma-khor", "suffer no grief". The third movement, entitled "Closer to the Fire", poignantly states "The churches war among themselves, forgive them; When they cannot see the truth." In the fourth movement, we receive this advice: "To ease the pain of the world, live by these words: with friends, give kindness; with enemies, courtesy." The fifth, and final movement, repeats the refrain "Amadeim", "we have come", showing the circular and, seemingly, unending nature of these crises.
The music derives from a variety of influences, including Persian poetic meter, Middle Eastern music and the composer's Greek heritage. It is at times soft and beautiful, signifying hope. At other times, it clashes, connoting a sense of urgency and discord. Singing in the original Medieval Persian, our singers will be accompanied by cello, Persian hand drums and oud (a Middle Eastern string instrument).
Written by Julie Skeen
From Behind the Caravan: Songs of Hâfez will be performed in WomenSing's June concert, titled EarthRise (a concert for compassion and peace.)
Sunday, June 3 at 4:00 PM at First Congregational Church of Berkeley
Wednesday, June 6 at 8:00 PM at St. Mary's Chapel, Moraga
For tickets, visit: www.brownpapertickets.com/event/3080468
For more info visit www.womesing.org/CurrentSeason