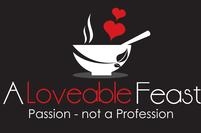 Get to know Carol Gilliland and her team at A Loveable Feast, who will be providing the scrumptious fare for WomenSing's gala on October 1st.
WS:  How did you get into catering?  
CG:  I have no formal cooking background and was raised by a mother who was a horrible cook so I didn't learn anything from her, except how to burn things like toast and cookies ;)  
My former spouse had a roommate in college who went to the CIA (Culinary Institute of America) in Hyde Park.  She taught me basic knife skills and helped me understand the sky is the limit when it comes to food.  I then began to experiment and do what I call "food composing" - in the same way that musicians can hear the various instruments and can pull together notes to write songs, I feel like I can taste various foods and can mentally compose the combinations... they usually work but often my failures bring about some new food item!! 
I began cooking for others and doing charity events about 15 years ago and was hired by a friend to do her annual Christmas party... one thing led to another - more parties, all word of mouth.  Finally about 8 years ago, I got a name to my business - A Loveable Feast, which is a play on Hemingway's A Moveable Feast... and since all of my food is made with love, it just fit.  My tag line of "Passion not a Profession" is a reflection of the saying "If you love what you do, you never have to work a day in  your life".
WS:  What is your inspiration?
CG:  Everything around me inspires me.  When I travel and eat new foods, I am inspired to re-create my own version of that.  When a new season arrives, I am inspired to find the fresh, local ingredients that make you feel like you are eating that season.  I believe that we eat with our eyes as much as our mouths and strive to make the food beautiful as well as tasty.  I like to call my food "whimsical" as I often take familiar items like Chicken McNuggets and turn them into something different - my version is called Chicken McChips and it is a chicken breast "nugget" rolled in crushed salt/pepper potato chips and then baked.  It's served with a Dijon-honey-cream and a buffalo wing sauce and is my #1 app!
WS:  Tell us a little bit about how you do catering for non-profits? 
CG:  I believe that we are all called to take care of one another.  My catering company is one of the ways I try to live that out.  For all paid catering events (I do many donated events each year), I donate 10% of the top-line revenue to one of three local charities - Contra Costa Interfaith Housing (where I am on the board), Shelter Inc or STAND for Families free of Violence.  Last year, I was able to donate over $18,000 in cash/donated parties.  And the bonus for me is that I get to create and prepare food, which is what I love to do....
WS:  What is your favorite dish to make?
CG:  I love cooking all of my dishes so this is a hard one to answer - sort of like saying, which child is  your favorite ;)  I would say that my caprese salad is one of my favorites as it is incredibly beautiful and incredibly tasty.  It is made with various colors of sliced heirloom tomatoes and then layered with fresh mozzarella cheese.  This is all garnished with my housemade tarragon-pistachio pesto.  Amazing flavor combinations and just all works together. 
WS:  Where did  you learn to make Mai Tais?
CG:  I have been to Hawaii a few times and was always in search of the perfect Mai Tai.  I tried all of the "best Mai Tai in Hawaii" and each fell short to me.  The flavor notes were flat and just didn't seem to scream TROPICS.  So, I came home, started researching recipes - found one that was a good starting point and then just started to do some beverage composition.
WS:  Maybe include a little bit of bio information.  Also, have you ever sung in a choir?
CG:  Oh jeez... bio?  I live in Alamo.  I love to walk and exercise and have walked over 600 miles on the Camino de Santiago in Spain. I sang in choir once when I was 8 years old for a very brief time - the girl in front of me kept looking back when I sang wondering what was that awful noise coming from the back row - once she realized it was me, she tried to have her spot moved.  Alas, my singing career was very short.