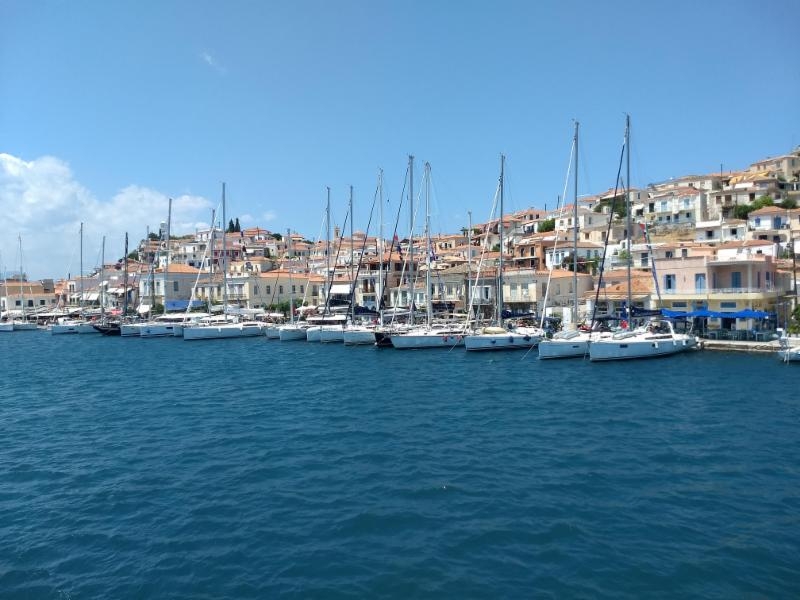 July 14th, Day 8
Submitted by: Leslie Blackie
"
This is very important for you to know, this is why I am telling you this.
"
Our last ful
l day we cruised to three islands: Hydra, Poros, and Aegina. Even though it was a very short night of sleep, what a wonderful, r
elaxing way to end our touring days. Our guide, Machi oriented us to the importance of Hydra in the Greek War of Independence of 1821 (the merchant ships added cannons to their ships and engaged in naval battles) and walked us around the charming small 19th century streets of Aegina.
We have learned so much from her- her ability to give us overviews of 4000 years of history, meaning to the stones, ruins, buildings and churches, and most importantly her humor has enriched our trip. As we left Aegina, a rainbow appeared over the city. Cruising back past the islands watching Greek traditional dancers (lower floors) and young disco dancers (top deck), we couldn't help but feel transformed as a seagull drafted in the wake of our boat and another rainbow materialized over Athens as we pulled into port. Tomorrow we return to our regular lives, but carry with us a deeper understanding of our history - from seeing the roots of civilization and our democracy to sharing the universal language of music with our partner choirs, we return revitalized to begin another fabulous season of sharing our music with you. Opa!
---
July 14th, Day 8
Submitted by: Sarah Lassen
Parting is such sweet sorrow.
Our last full day together, my how the time flew by! We have walked, bused, shipped and toured through several parts of Greece: Athens, Cape Sounion, Lavrion, Corinth, Mycenae, Tripoli and the Saronic islands of Hydra, Poros and Aegina. The pre-tour cruise group actually visited several more islands as well! Who knew we could pack a visit of all these places into one week! 
Bravo to Classical Movements for organizing such a fantastic tour for Womensing and for finding us one of the absolute best tour guides that Greece has to offer! The wealth of knowledge Mahie has bestowed upon us was astonishing. She is an archeologist, has written two books and lectures in the winter at one of the colleges. She taught us so much about ancient history, social, economic and cultural history of Greece and she even speaks 5 languages. Aside from her brilliant mind, she was quite funny. I think we will all hold the following sayings near and dear to our hearts such as "this is very important" and "let me tell you about this"..her true passion for history drew us all into the mystical world of Greece and all that it beholds. 
Aside from the incredible Greek history, the tour members have learned quite a bit about each other as well. Can you all still hear Kathryn calling "S1's raise your hands!"? Roll-call every time we got back on the bus was hilarious but we never left anyone behind! We had so many deeper conversations with each other during bus rides, dinners and shared our experiences with music, with food and with our personal lives. This was my first tour with WomenSing and I brought along Justin (my husband and also unofficial tour photographer, lol.) It was nice to finally give a face to a name of women I've been singing with for 7 months now. Thank you to all the family and friends who have tagged along on this tour to be our "companions" and rain sound percussionists! Though the food was incredible, I think we all could agree that by the end of the trip we've had our fill of bread, potatoes and lamb!
As this was a music tour I'd say we also found a deeper meaning in the music we presented to our audiences. Ofer carefully organized and arranged music for each venue that was both appropriate and soul searching. In many of the performances, we could hear the audience take a deep breath and exclaim, "Bravo!" We even had a standing ovation from the people of Lavrion and also in St. George's Cathedral after we sang "Dirait-on" We felt so welcomed in Greece. 
I'd have to say though my favorite interaction was at the refugee camp. I felt quite awkward singing my solo for "I wish I knew how it would feel to be free." Who was I, a free American, singing to a refugee about freedom? As I sang the opening words "I wish I could share all the love..." a 3 year old boy crashes his toy car right in front of me and I couldn't help but laugh as I tried to finish singing the rest of the sentence. It was perfect. Not the reaction I expected but who could blame the kid? I was right in the middle of his playground. The evening proved to be such a sweet and light-hearted one with the children, not too serious or dire in nature, just kids being kids with us. It showed me that songs can certainly have different meanings based on the context and the settings in which they are sung. I'll forever remember that moment with those kids. 
Currently, I'm writing this as we finish our day cruise around the Greek islands and make our way back to Athens for our farewell dinner. Some stayed at the hotel to pack their bags for bright and early flights tomorrow morning. It's been a whirlwind of an adventure and though there is so much more to see, I'm grateful to head back home soon. I believe tours like this will only build our skills and create deeper bonds with WomenSing members in seasons to come. Ef-Harry's-toe all! (Our sad excuse for remembering how to pronounce "thank you" in Greek)