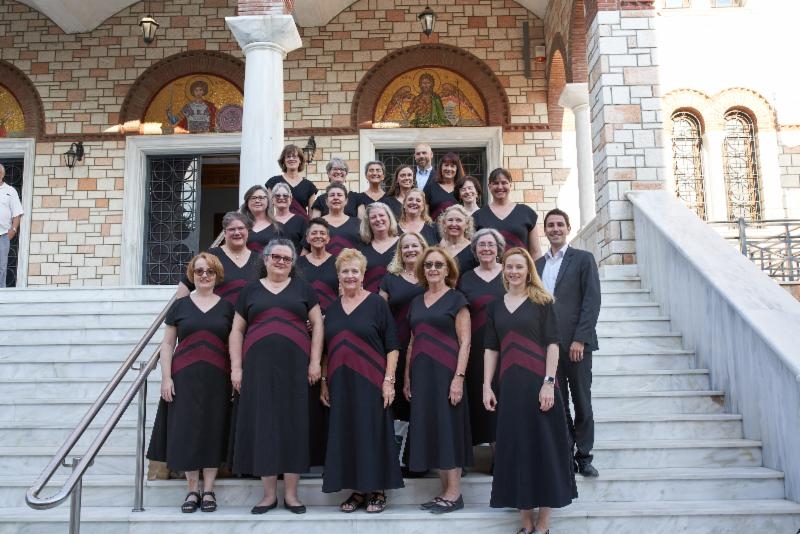 July 12th, Day 6
Submitted by: Linda Long
Hmmm. What to do... Epidaurus? No. Need to be back for the concert. Another trip.
Wonderful breakfast on the roof. I will miss this view when I am gone.
Some people went to see the changing of the guard. Missed it this time but fond memories of seeing it in 1964. King Paul had just died and the queen, Fredericka, and future king Constantine were riding in an open car with international diplomats to the funeral. The former palace is now the parliament building but the white legged and skirted guards still perform their ceremony several times a day.
Visiting the Heinrich and Sophia Schliemann House a few blocks from our hotel was st the top of the list. The interior of the house is decorated with designs and colors from the mansions at Pompeii. The floors were mosaic. The house is set in a beautiful garden, where one can have a drink or light meal. It is a tranquil oasis on a busy street.
The house is now a numismatic museum. If you love antique coins and history it is an impressive collection.
From the Schliemann House one of my companions remembered he needed socks. While entering a large department store we encountered Ellen and her friend Carol emerging from the store. The store was interesting. A hybrid of Macy's and Nordstrom, using the Selfridge model.
The Agora did not disappoint and the museum still had the "child's commode" from the 6th
century BC that I remembered seeing in 1964.
The highlight of the day was singing at St. Gregory's beautiful church in Chalandri. We couldn't have asked for better acoustics or a better audience. The church ladies prepared a marvelous Greek feast for us and we all enjoyed visiting with our hosts over dinner. The bus ride back to the hotel included skillful driving and getting lost.
So happy to have finally returned to Greece and to be singing with WomenSing. Life is good!