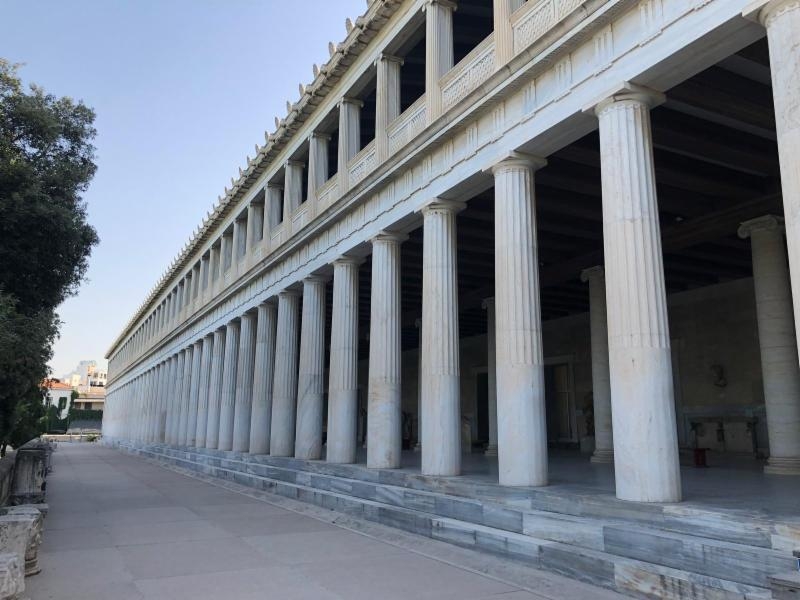 July  10th, Day 4
Submitted by: Chris Bennett
As a sculptor, my husband Rob has always been drawn to the amazing art of the Classical period. Yesterday, thanks to WomenSinger Christine d'Allance, we had an incredible experience to visit the Ancient Agora (market) and Stoa (covered mall) archaeological site guided by Professor Andrew Stewart from UC Berkeley.
One of the amazing things about this site is how long the excavation process has continued. The dig began in the 1930's and continues today, with many levels of artifacts from time periods 700 BC through the Byzantine era (as late as 1500 AD).
Professor Stewart has been working at this site since the 1960s so he was able to share both gloriously precise insights on design and construction as well as personal anecdotes about his colleagues and life in Greece.
The highlights were the Temple of Hephaestus and Athena, which is one of the best preserved ancient temples in Athens, and the Stoa which was recreated in the 1950s using ancient constructio
n techniques.
After immersing ourselves in Grecian antiquity, we crossed the railroad tracks and enjoyed a souvlaki lunch in the "new" market area. As the Professor remarked, the
shopkeepers of the ancient Stoa would have found our meal comfortingly familiar!