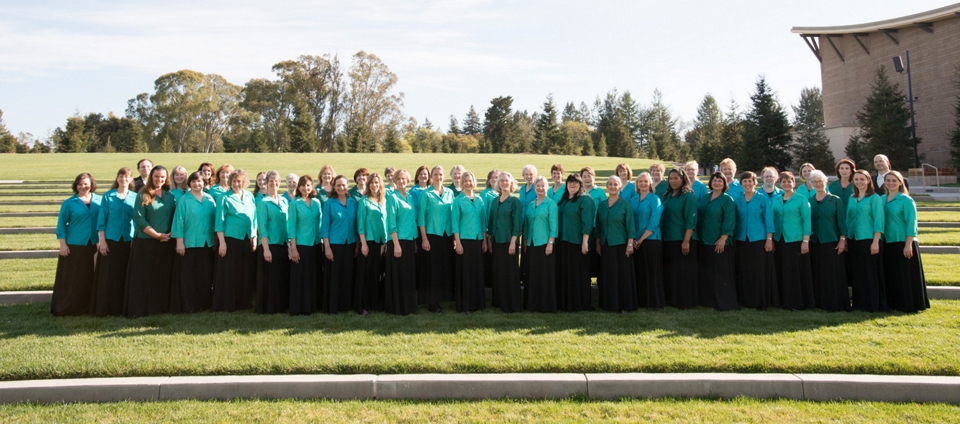 March 24 was a very sunny day – in more ways than one! An Elegant Gathering, the WomenSing event at the Green Music Center at Sonoma State, was a spectacular success. Our guests enjoyed a tour of this marvelous new home for music in the Wine Country and a salon concert in elegant Weill Hall. Afterward, the wine flowed along with the hospitality of the Center's sophisticated new Prelude restaurant.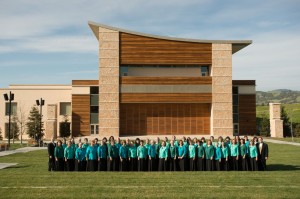 Our salon concert – the centerpiece of the afternoon – was amazing. Artistic Director Martín Benvenuto intrigued us with his performance of songs by Francesco Tosti, an underperformed composer of expressive, lyric melodies. Our pianist Paul Caccamo showed his versatility by teaming with cellist Adaiha MacAdam-Somer for a haunting Beethoven sonata. And when our voices soared with the music we specially commissioned to celebrate Martin's 10th anniversary with the Chorus,Bright Morning Stars are Rising, many hearts were touched, ours among them!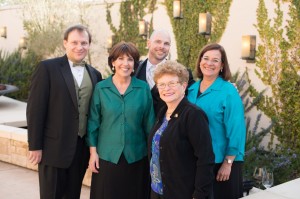 Martín Benvenuto, Joanne Dale, Paul Caccamo, Ann Dzuna, and Gloria Kubitschek
We owe a huge debt of gratitude to Joanne Dale and Gloria Kubitschek and all their volunteers. Joanne and Gloria, in particular, spent hours working out details with the Green Music Center and coordinating a multitude of tasks.
An Elegant Gathering was the first adventure in WomenSing's busy Spring and Summer schedule. We travel to St. Mary's College on April 20 for the Youth Inspiring Youth Composers Workshop and return to Lafayette and Berkeley for our June concerts. In July, we will be in Missoula, Montana where we've been specially invited to appear at the Ninth International Choral Festival. None of this would be possible without the generous contributors who make our program possible. To all who joined us to celebrate our Sonoma County debut, we are beholden to you for your steadfast support! Thank you!