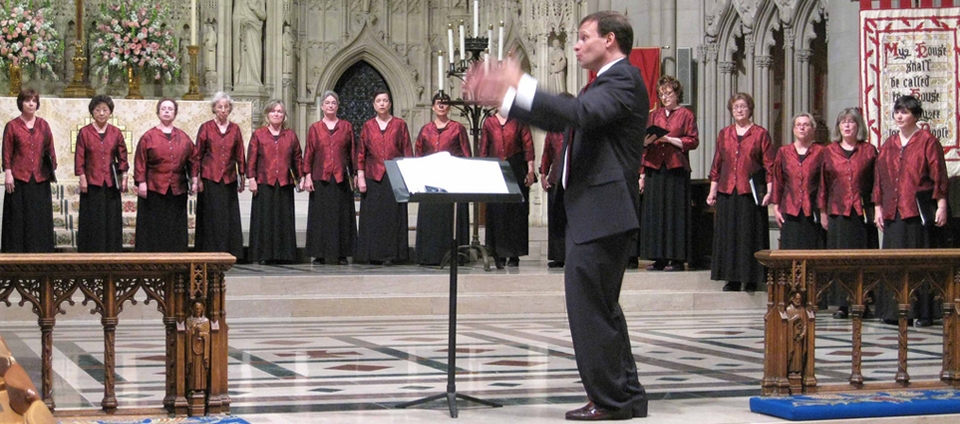 WomenSing's tour of Washington, D.C. was a resounding success. At Washington National Cathedral, the chorus sang an exquisite set of a cappella sacred music during a prelude to the Sunday evensong service. We sang at the high altar (see photo) and effortlessly filled the entire cathedral. This spectacular setting was truly awe inspiring.
The musical highlight of the tour was our performance the following day at St. Patrick's Church just blocks away from the Washington Mall. The group sang beautifully and freely, introducing the audience to a number of Youth Inspiring Youth pieces and sharing excerpts from our upcoming spring concert series. The Peabody Children's Chorus from Baltimore joined us to perform Wit and Fright, a first year YIY composition by Ryan Harper for two choruses. Well trained and very musical, the children quickly took to WomenSing's director, Martín Benvenuto. One young Peabody chorister paid Benvenuto the highest compliment he can remember receiving: "When I sing for a new conductor, I'm usually afraid that they won't give me the help I need, but I trusted you immediately." We wrapped up the tour with a lively noon-time concert at the Old Post Office Pavilion, a beautiful historic building with an enormous atrium as well as an old bell tower that offers panoramic views of the city.
In addition to our concerts, chorus members toured the Washington monuments by moonlight, visited the Smithsonian museums, rode bikes along the wharf, noshed on great seafood, and even sang karaoke late one night. We toured the Capitol and witnessed a floor debate at the House of Representatives. Afterward, chorus members met with Congressman John Garamendi who spoke very enthusiastically about his new position in national politics. It's impossible to visit Washington, D.C. without feeling a surge of patriotism and sentimentality for this country, in spite of our faults. Not surprisingly, the chorus spontaneously broke into the Star Spangled Banner on the steps of the Capitol building.