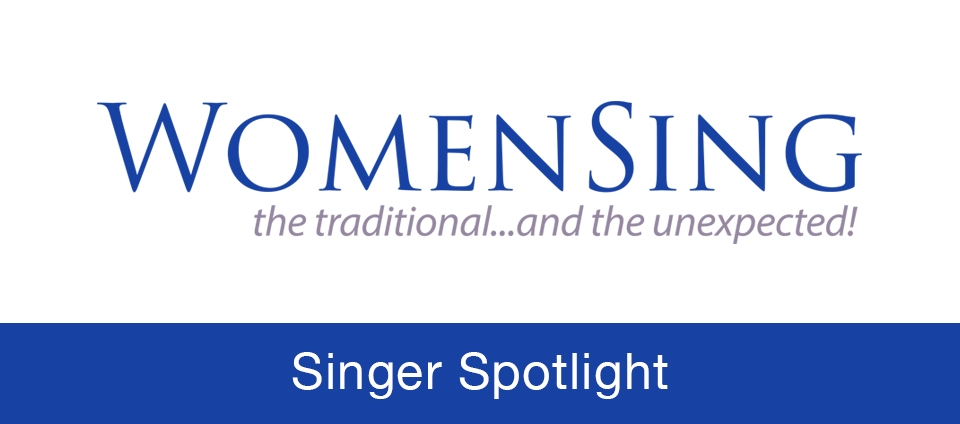 Get to know several of the WomenSing performers through our new Singer Spotlight feature. For the first installment, we interview first soprano Kristan Torres and second sopranos Jules Campbell and Samantha Infeld. Although at different places in their lives, these women share a love of music and enjoy the friendship of our community. Learn about them and others below.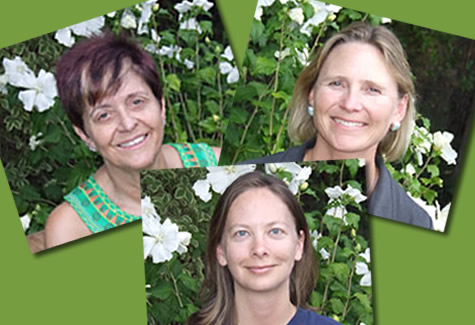 Singer Spotlight
WomenSing is composed of a diverse group of women who love to sing. Learn more about our members, what motivates them to sing, and how they fit music into their busy lives. Several times a year, we'll profile a different singer (or honorary singer).
Genia Simpson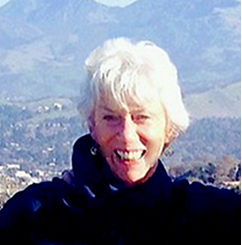 Genia Simpson, one of the founding members of what eventually became WomenSing, comes by her musical talent honestly. Both of her parents were singers; her father sang both with the Met and with the San Francisco Opera. Genia grew up in Porterville, in the central valley of California, on a 600-acre orange ranch. She and her sisters belonged to the Canterbelles, an equestrian group that appeared at county fairs, Genia riding her pinto pony, Paint. Genia married Bill, her high school sweetheart-it's been a "love match for 58 years." Bill served four years in the Air Force, which allowed the couple to spend their first married year together in Germany, before moving to Orinda.
Genia met Orinda Women's Chorale's first director, Marge Donaldson, at the ...Find Out More...Orinda Newcomers Club. At that time there wasn't much going on for young mothers and the club was their social outlet. It was 1965, the era of the hippie, and the "summer of love" was in full swing in San Francisco. Genia and Marge decided to go into Berkeley to take guitar lessons and sing folk songs.
Marge had been a music major studying choral directing and violin at Oberlin, and Genia had sung in the Pomona College Choir. They both missed singing, so the idea occurred to them:  "Why don't we start a Newcomers choral group?" And thus began what is now WomenSing. The group met in Marge's living room, with kids crawling around under the chairs. Marge's taste was eclectic, covering everything from Bach to the Beatles-truly "the traditional and the unexpected." Not only did the women love singing together, but they just loved being together. "It was our therapy and perhaps our first realization of the power and comfort of a women's group."
Genia's favorite memories revolve around the group's collaboration with other artists. "It was so exhilarating and rewarding. These collaborations created such camaraderie, full of 'sol y sombre' moments of laughter and singing through tears-not to mention the long-lasting friendships."
One of Genia's special memories of collaboration is the Faure Requiemwith the San Francisco Gay Men's Chorus, directed by current WomenSing Artist Director Martín Benvenuto. "It was transporting-the spiritual beauty created in that collaboration is one of my very cherished memories." She also remembers with fondness Karl Jenkins' Adiemus, directed by former Artistic Director David Morales, with augmented choir, the Fifth Dimension Dance Company, and a nine-piece, all-women percussion orchestra. Genia participated in one tour with WomenSing, to Argentina. "To be in Martín's homeland with the honor of singing in the Golden Salon at the Opera House in Buenos Aires was a once-in-a-lifetime event. Martín selected a beautiful program with a variety of choral music-American folk songs and spirituals, classics, and English and Scottish ballads."
Although Genia has retired from WomenSing, she's still a vital component of our performances. Just before we take the risers, she leads us through a series of gentle dance movements to prepare us to sing. "I try to bring a flowing but focused energy and calm centeredness to everyone. Body awareness, being present, helps us breathe as one and gather our spirits in the power of community-one voice."
In fact, creating dances has been Genia's life passion. She studied with Bella Lewitsky, Merce Cunningham, Eugene Loring, and also studied and taught at Shawl Anderson Modern Dance Center in Berkeley, dancing with the latter's first performing company. She loves all aspects of the creative process-the individual dancer's expressive movement, the surprise and delight of improv, the spirit of collaboration. "The weaving together, the phrase and flow of final production are all so exhilarating."
In 1974, Genia and cofounder Gini Sungar created the Dancers Circle. This group's long-standing commitment to education continues to this day as they create interfaith worship services, concerts and workshops throughout the Bay Area. For the past 38 years the Dancers Circle has been affiliated with the Orinda Community Church. The group has performed its signature work, the Misa Criolla, an Argentinian folk mass, over 100 times throughout the Bay Area. The first performance of this work took place with David Morales when he was the music director at the First Presbyterian Church in Berkeley.
The Dancers Circle has collaborated with many WomenSing artistic directors on works such as The Irish Cabin and Faure's Sanctus (Gladys Burke, director); Peace Invocation, arranged by Alice Parker (Kathy Smith, director); Chichester Psalms, Pinkham's Christmas Cantata,Misa Criolla (David Morales, director), and Gaudete and Orban'sSanctus (Martín Benvenuto, director).
While it hardly seems that she'd have time for other interests, Genia also does crafts, hikes, paints, and enjoys a good book. She's proud of her husband Bill, an architect, who won the first Orinda Architect of the Year Award and also served on the Orinda Planning Committee. Genia and Bill have two children, four grandchildren, and one great-grandchild.
WomenSing is richer today for the start Genia helped give it, and for the freedom and joy she encourages in us to this day.
Camille Couture-Carter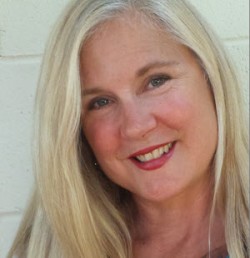 WomenSing is thrilled to welcome Camille Couture-Carter as our Chorus Manager. We have lots of plans for our 50th anniversary season in 2015-2016—and beyond—and we couldn't ask for anyone better than Camille to help those plans reach reality. Camille comes to us with a wealth of experience. A classically trained choral conductor and vocalist, she holds a B.M. and an M.M in choral music. She has has worked in artistic administration since 1999, and has sung with both community and church organizations, performing a wide range of repertoire.
In order to get to know Camille better, we asked her a few questions recently. Here's what we found out.
WomenSing: When did you first start singing?
Camille Couture-Carter: My parents say I sang to myself all day long starting around the age of 3, but I didn't venture out as a soloist until my post grad years.
WS: Do you have a favorite genre of music?
CC: Not just one, no. I do have a long list of beloved pieces in almost every genre of music though, and have a soft spot for all Christmas carols.
WS: What do you think draws people to choral music as a performer?
CC: For me, I love the rush and satisfaction I experience when I'm singing with others and the harmonies lock in perfectly. For that moment in time, you're present, but out of your own individual thoughts and working with others in a remarkable way.
WS: As an audience member?
CC: Choral music (even when it's powerfully rhythmic or jarring) has a meditative quality and I always feel refreshed after listening to an excellent choral performance.
WS: When you're not singing or working, what else do you like to do?
CC: So many things! Spend time with family & friends, hike, dance, read (history and nonfiction), observe our chickens (seriously comical beings, those birds), garden, play board games, meet new people, travel (especially by train), shoot the breeze…
WS: What was your favorite vacation? (Or have you taken it yet?)
CC: My favorite vacation is always the most recent one. However, my favorite type of vacation is one where we stay in a home and "live" in the location for two or three weeks.
WS: Tell us a bit about where you grew up. Did you move when you were
a kid, or stay in the same house until you left home? Brothers or
sisters? What did/do your parents do?
CC: I was born in Santa Cruz County and lived there until the age of 25. I was one of the few kids I knew who lived in the same house until I was 21. Looking back on it, I'm really glad that I was able to stay there through my childhood. To this day, some of my closest friends are the two sisters who lived on the other side of the fence. Being an only child, the continuity of those friendships is the closest thing I've had to siblings. My father was a painter and sculptor, and my mother a business office manager at the University of California at Santa Cruz.
WS: Tell us about your family now—spouse, kids, pets?
CC: I met my husband, Andrew Carter, in 1999 when we were both cast in the Cabrillo Music Festival's production of Bernstein's Mass. Music brought us together, but our focus has changed since the birth of our daughter Madison in 2005. Now our time is divided between parenting, work, friends, extended family, our many pets and a small but time consuming mini farm. We still perform from time to time, just not so often.
Katie Walker
Since 2006 Katie Walker's transportingly beautiful soprano voice has enraptured WomenSing audiences. First featured in Beatus Vir by Antonio Vivaldi, she has continued as a frequent, beloved soloist with the group and loves to perform the diverse repertoire of music offered each season.
As if her musical contributions to the chorus were not enough, Katie has been invaluable behind the scenes. She has written many articles for the website and has designed programs for the annual Gala. In addition, Katie stepped up for several years as the Marketing Committee co-chair and served on the Board. She also headed up a dedicated committee that reexamined and reworked WomenSing's mission and vision statements.
In 2009 Katie volunteered to work on the WomenSing website redesign and has been the group's webmaster ever since. "These days," she says, "I get the most pleasure from creating eye-catching web pages. I really enjoy finding great graphics and laying out the page so it's well-balanced and attractive.
"Volunteering on the website gave me the opportunity to get experience doing the kind of work I wanted to do for pay. Working on the project was a fantastic learning experience and helped boost my confidence. Through past Marketing chair Robin Harper, I got several freelance jobs and I met people who helped me find even more work."
Katie now has a full-time job managing training and documentation for a technology company. "The network effect!" she exclaims. She works mostly at home, which allows her to be available to her two teenagers.
In 2013 Katie traveled with WomenSing to Montana's Missoula International Choral Festival. "The Missoula trip was fantastic on so many levels. It was the perfect blend of performance, concert-going, socializing, and sight-seeing. I would love to participate in another festival where there's an opportunity to perform with and hear other top-notch choral groups."
Katie extols the benefits of participation in WomenSing. She enjoys being part of a community of "amazing women" and working with director Martín Benvenuto, pianist Paul Caccamo, and other gifted musicians. Her family attends every performance, and her children have come to value and to support her in this activity the way she supports them in theirs. Moreover, "it's important for them to see their mother pursuing a rewarding interest outside the family and work."
Recently Katie and two other singers began hosting an annual pay-to-play dinner as a fundraising event for WomenSing. "Last year we decided to add karaoke to the mix and it was such a blast. I can't imagine a more enjoyable way to spend an evening – good friends, good food, crazy music, percussion instruments, and a bin of dress-up clothes. Spaces are still available for this year's dinner!"
Paul Caccamo
Editor's Note: The singers of WomenSing bestow an honorary Singer Spotlight upon our accompanist, Paul Caccamo!
Paul Caccamo is much more than the accompanist for WomenSing. He is a key element of WomenSing's artistic creativity and vocal excellence. Paul first became involved with the choir in 1999, playing a few concerts. Since 2007, he has been our regular accompanist and leader of sectional rehearsals.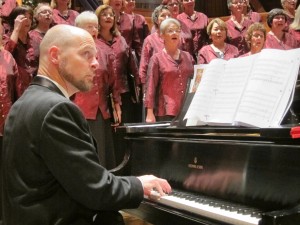 Every Wednesday at 6:15 PM, an hour before rehearsals begin, Paul is in the rehearsal room, ready to run a short sectional rehearsal to not only drill notes and rhythms, but to turn those notes and rhythms into expressive music. Of accompanying singers, Paul says "it is mostly about listening as intensely as possible." Every member of WomenSing has benefited from this listening, as Paul not only helps us learn the music, but provides feedback on artistry and phrasing as well. With his guidance in sectional rehearsals, and helpful pitches when we just can't seem to get the right note in rehearsal, WomenSing creates beautiful and expressive music, thanks, in large part, to Paul Caccamo.
Born in England but raised in Moraga, Paul began taking piano lessons at the age of seven because, "it was the instrument my parents wanted me and my brothers to play…it is as simple as that." He also learned to play guitar in his 20's, and hopes to one day learn the cello. Additionally, Paul is an excellent vocal coach. He chose to become a professional musician because he "never wanted to live a 'normal' life," saying, "it hasn't always been easy, but it's been very rewarding on multiple levels." In addition to WomenSing, Paul accompanies the Contra Costa Children's Chorus and Piedmont Choir, as well as works freelance making recordings, playing in performances, coaching, and leading choir rehearsals for Campolindo High School's spring musical.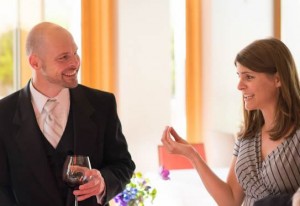 When he is not busy making beautiful music, Paul spends as much time as he can with his wife Paula, and daughters Sierra, age eleven, and Cora, who is less than one year old. He also has a great love of the outdoors, and estimates that he has backpacked close to 6,000 miles since 2001, exploring the backcountry of California, Wyoming, Utah, Nevada, and Idaho: "A week of sleeping on the ground and living off of only what you can carry on your back is an extraordinarily liberating experience," says Paul. One day he hopes to share this experience with his baby daughter, Cora.
Musically, Paul is inspired by artists who can express, "genuine emotion through music," and states that his favorite WomenSing songs are "No Time" and "Bright Morning Stars." Both songs "overflow with emotion, and in our best performances of them, the effect on choir and singer both is palpable." Paul enjoys working with WomenSing because it is never boring and he always gets to learn new music. WomenSing, he says, can "perform such a wide range of styles and genres with aplomb…we work hard but we have fun too. If you're doing music and you're never having fun, you are doing it wrong." The members of WomenSing have benefited immensely from working with Paul. We deeply appreciate the dedication, artistry, and kindness he brings to the choir.
Audrey Espey
Sweet-voiced Audrey Espey has loved vocal performance since childhood. One night when she was eight years old, she was caroling Hark the Herald Angels Sing around the house and realized that she wanted to learn how to sing. Soon after, she joined the Contra Costa Children's Chorus and has been a vocal musician ever since.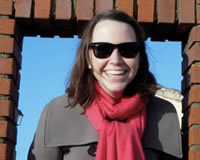 A young professional fresh out of college, Audrey works as an Associate Media Developer at a Belmont textbook company. She joined WomenSing a year ago and has discovered her joy in being part of a group of women and in making music with the group. "It is especially rewarding since I am one of the youngest singers in the group, and the other women can serve as role models to me," says Audrey. "I think many people think that young adults don't want contact with anyone beyond their generation, but I find that connecting with other strong, intelligent women is invaluable." She appreciates this first time belonging to a choir that is "not full of teenagers or college students," and has found that "when singers are comfortable with themselves and are there to do something they love, the learning experience becomes more valuable and enjoyable."
Audrey especially enjoyed WomenSing's Youth Inspiring Youth workshop earlier this year and was fascinated to hear several composers discuss the process of setting a text to music. "I liked that the choir got to serve as composer Julia Seeholzer's guinea pig for trying out new ideas," Audrey says. She also enjoyed the clinicians' mini symposium about setting a text to music, since "text is what makes singing so unique and enjoyable. Composing with words is a whole art form in itself, so it was interesting to hear about how these composers approached that."
So far, this talented soprano's favorite WomenSing piece has been Bright Morning Stars Are Rising. "It's a beautiful and moving piece and incorporates all that I love about choral singing: intertwining voice parts and beautiful harmonies. Choral singing is so fun because you can make so MUCH sound and it's interesting and complex sound." Audrey feels that it is even more enjoyable to sing in choirs than to listen to them. "When you are singing in a choir you are completely enveloped by the sound. Bright Morning Stars is one of those songs that just washes you with sound. I also think the lyrics of the song are very moving and beautiful and hold a particular importance for women. The line 'Oh, where are our dear mothers?' never fails to make me cry….It is comforting to think that I am singing this line with other women who are mothers, who have mothers, and who have possibly lost their mothers or grandmothers, and yet we are all still together making music and that the sound is sweet and hopeful."
Though Audrey can speak eloquently, she keeps her answer brief when asked the reason she is eager to return next semester to WomenSing. She responds simply, "The quality of the music we make."
Andy and Laura Freedman
Ask Andy Freedman to highlight one of her experiences with WomenSing, and she immediately remembers Montserrat monastery near Barcelona. "We did an impromptu performance of Amazing Grace there," she recalls. "People were leaving after Mass, but when we started singing, they returned to their seats, listened, and applauded when we finished. It still gives me chills when I think about it."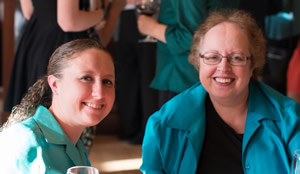 Andy joined WomenSing in 1996 as a second soprano. Then, in 2009, she told her daughter that chorus director Martin Benvenuto had invited nonmember singers to join the chorus to sing Benjamin Britten'sCeremony of the Carols. Having graduated in 2005 from the University of the Pacific with a degree in vocal music, Laura took the opportunity to sing first soprano. After that concert, she realized she had been away from music for "far too long" and decided she wanted to join WomenSing.
What is it like for Andy to sing in a chorus with her daughter? "As she is always in the front row, I can usually see her when we perform," says Andy. "It makes me really proud that she can use her voice to enhance the choir's sound. I was an especially proud mummy when she had a solo in one of our concerts."
What is it like for Laura to be in WomenSing with her mom? "It's great to be in a chorus with my mother. We live in different cities, so it's nice to get to see her at rehearsals." The WomenSing 2012 trip to Washington, D.C., was especially meaningful for Laura. "I was able to perform great music in amazing locations, visit Washington, D.C., and its great museums and monuments, all with my mother. We roomed together, performed together, and saw the sights together. I look back at that trip with very fond memories."
Backstage, WomenSing benefits from the dedication of both mother and daughter. Andy has served as Soprano 2 section leader, board member, president, and chair of the search committee for WomenSing's artistic director. Now she serves as librarian, keeping track of the chorus's many musical scores. Like mother, like daughter, Laura serves behind the scenes as Soprano 1 administrative section leader and as a member of the Auction Management Committee.
Laura's older sister Ceri serves as front house manager for the group. "Anywhere the chorus is, Laura, Ceri and Andy are always there," says Laura. "We each have separate lives, but WomenSing is a constant that brings us together. WomenSing is definitely a family affair."
Amy Bruhmuller
If you attended the exciting WomenSing fundraiser this fall, you saw the hand of singer Amy Bruhmuller at work. As event chair for the second year, Amy brought together many volunteers to provide the delightful auction items, delicious refreshments, vivid decor and vigorous rhythms that made this year's gala so enjoyable. Working hard and making it look easy, Amy remained calm and unflappable.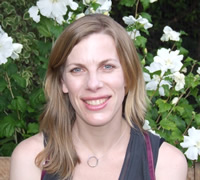 WomenSing is an important part of Amy's life. Most of her time is spent at home caring for her three children or volunteering at the school of her two older daughters, and when Wednesday evening arrives she is often weary and tempted to go to bed early. Instead, she heads for rehearsal and is immediately gratified by the energy that fills her. "The music and the community are invigorating!" she exclaims. "It is incredibly rewarding to be able to spend three hours focusing on MY art, passion and self-expression."
A gifted soprano, Amy majored in music at Scripps, then earned an M.F.A. in vocal music at U.C. Irvine. She sang in several professional choirs in Northern and Southern California before joining WomenSing in 2008. Since then, her sweet and beautifully trained voice has been featured in more than one WomenSing performance. Listen to the last WomenSing CD, for example, and you will delight in Amy's solo in the carol Ivy, Chief of Trees.
Determination? Amy has it. Six months pregnant in May 2011, she endured miserable hip pain along with her extra pounds in order to travel with the chorus to Washington, D.C. She couldn't manage much sightseeing, she says, "BUT it was thrilling to sing in the National Cathedral and I loved traveling with WomenSing and felt as though I had forty sisters and mothers looking out for me during that trip."
The blend of a "high level of artistry" and "flexibility, nurturing, and kindness" draws Amy back to WomenSing each semester. "My kids enjoy coming to the WomenSing concerts to see me perform. I think it is important for my girls to see me doing something that I am passionate about (other than them!) and to see me committing to a regular rehearsal schedule to work toward a successful performance… In WomenSing I am challenged and pushed out of my comfort zone weekly and I am becoming a better musician because of it. What more could you ask for in a choir?"
Patti Sax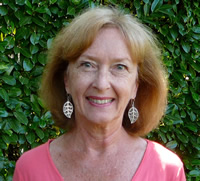 Patti Sax probably didn't realize that she was combining two loves—music and travel—when she joined the Orinda Women's Chorale (now WomenSing) in 1996. Two years later, Patti, a former airline attendant, volunteered to handle the internal tour management duties when the group toured China in 1998 under the direction of David Morales. These responsibilities "settled comfortably in my lap and I loved it!" During Morales's tenure the group also traveled to Canada and Mexico. Martin Benvenuto took over as Artistic Director of WomenSing in 2002, and kept the group's suitcases packed with trips to his native Argentina, Spain and Washington, D.C.
She particularly recalls the last night at the International Choral Festival in Cantonigros, Spain. WomenSing was assigned a small area in a large tent while waiting to perform—a wait that lasted for hours. "There were no creature comforts in this tent but we all kept a positive attitude and maintained our collective sense of humor and focus for the performance." When WomenSing took the stage at 11:30 p.m. to sing Nigra Sum, a particularly meaningful piece to the people of Catalonia, "the crowd loved it and I was so proud of us! There was a real connection between WomenSing and the audience because they appreciated that we understood their song and had delivered it so well."
The journey has been musical as well as geographical. "With Martin as Artistic Director," Patti says, "we've all grown technically and artistically as singers. It's both demanding and rewarding." Patti adds, "It's a wonderful community of women whose natural bond is further strengthened by the experience of singing together. We really do have to be 'in tune' with each other. I don't think this kind of bond would exist in a mixed group."
Patti served as Board President early in her association with the group, agreeing to serve without benefit of first attending a board meeting. She lost her mentor when the past president took a medical leave, which led to a sometimes uncomfortable but ultimately "wonderful opportunity for me to tap into skills and strengths I didn't know I had." She served as president again in 2006-2007, and currently serves as operations co-chair.
Patti rates The Blue Eye of God as a favorite WomenSing piece. "I like songs with a message and this one is about the sea and man's responsibility to the creatures that live there. I guess that's why I am also so passionate about the Youth Inspiring Youth Project. It combines educating youth to be environmentally conscious with the creation of art, poetry and new music."
As Patti knows, combining good things—like music and travel—can really make a heart sing.
Teresa Caldwell
Every Wednesday evening, Teresa Caldwell smiles as she climbs into her car and heads out to her WomenSing rehearsal.
"I love the opportunity to sing with a chorus that has high standards and a lively repertoire," she says. "Once a week I get to park everything mundane and work with my fellow singers, Martin, and Paul to create something beautiful. It is a great energizer and stress-reliever. Plus I have had the opportunity to meet so many fun, interesting and talented women."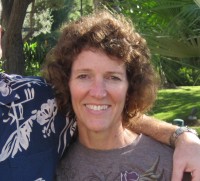 Teresa, who is finishing her second year with the chorus, chose WomenSing because she was intrigued by the Youth Inspiring Youth project (YIY), which gives opportunities to young composers. "I liked the fact that WomenSing was giving something back to the community," she states.
One of Teresa's favorite pieces was A Precious Pearl, a River of Words poem set to music by Lauren McLaren, one of the YIY composers selected in 2011. Teresa says the piece was challenging to learn but very satisfying to perform. "What a shining moment for Lauren, ourselves, the young women of Acalanes' Bella Voce chorus, and Miribai Britton, the young poet who wrote the text." Teresa speaks enthusiastically about the composers' workshop that preceded this performance. "I will never forget the expressions on the faces of both Lauren McLaren and Nick Norton when they first heard us give voice to the pieces they had written. That was priceless."
Teresa prefers singing in an all-women's chorus. "Choral music for women is more complex and textured than a lot of SATB [music], so it is very challenging and satisfying to sing." On top of that, "there is a special camaraderie … that doesn't exist in a mixed chorus. Women have a natural tendency to be collaborative and supportive of one another, which are key ingredients to choral singing!"
Jules Campbell
"After years of being a mother and jumping wholeheartedly into all of my children's activities, it is wonderful to do something just for me," says Jules Campbell, a second soprano who joined WomenSing in 1998.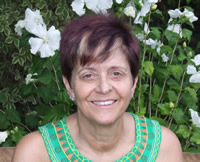 Jules began voice lessons at age seven and has been singing for as long as she can remember. She grew up in Wales, the "Land of Song," where music permeated her life, and still thinks back to childhood Christmases when family gatherings at her home always included singing and playing instruments.
Since then, Jules has had the opportunity to sing with a number of choral groups, and she above all appreciates her current experience. "I love singing in WomenSing, especially as we have grown so much artistically. I enjoy Martin's attention to detail and excellence." She has served as the second soprano musical section leader for several years now, and lends her dramatic abilities and training to the group as well. She states, "Martin and I work hard on the staging and professionalism for every concert so that we look as good as we sound."
Belonging to WomenSing also has deep personal meaning for Jules. "When I went through a divorce, WomenSing was a lifeline," she says. "I honestly don't know how I would have gotten through that devastating time without all the support from my fellow singers. They were wonderful and helped me get through with just the right combination of jokes and compassion. However horrible I felt, I'd go to rehearsal and singing would soothe my soul and take me away from all my worries and tears."
Versatile Jules has studied painting, printmaking, screen printing, sculpture and figure drawing. Look for her pieces around town in restaurants, salons and bridge clubs. She is also the official piano accompanist for Santa Maria Church in Orinda.
Samantha Infeld
Two years ago Samantha Infeld landed a job as a NASA engineer, moved to the Bay Area, and began her search for a chorus to join. She found one. "WomenSing stood out as a high-quality yet friendly group with enough variety of music to keep exercising my brain and keep me excited about the next season," she says. In order to attend Wednesday evening rehearsals, she stays up two hours later than on other week nights.
This season Samantha is excited to acquire the exotic skill of throat-singing, the production of overtones on top of a melody by changing the shape of the mouth, in order to sing a work called Past Life Melodies. She also eagerly anticipates WomenSing's December repeat performance ofMagnificat by Christine Donkin, in which groups of singers echo the notes of the soloist's chant-like melody. "It feels like we are bells being played, and the sound slowly layers and fills my ears," she says. Her family, she adds, was "mesmerized" by this piece, and she feels happy they will have the chance to hear it again.
Samantha's full life includes participating in professional engineering organizations that do outreach to children and developing world communities. She plays the piano and African drums and also teaches yoga and meditation. Photography and world travel fascinate her.
Last spring she went to Washington, D.C., where she sang with the chorus in the National Cathedral and the Old Post Office Pavilion. "I felt very alive and aware of our audience, our group's sound, and my own singing, all at the same time."
This spring, you'll again find Samantha in the second soprano section. "There are always a few songs in the season that are just too intriguing to miss learning," she says. "Being in WomenSing ensures that I keep singing all the time, and singing feels good and keeps me happier. It is really nice to be part of a community that really cares for each other."
Kristan Torres
A clear, pitch-perfect high C soars out over the chorus into the audience. You scan the faces of the first sopranos to find its origin and discover a vibrant, petite blonde in the second row.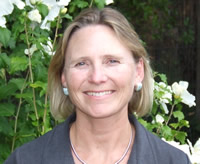 Kristan Torres, often a WomenSing soloist, has been performing with the group since 2005. "I found the audition very personal. Martin is very supportive and approachable, so I felt at ease right away."
Wife, teacher, and mother of two young children, she finds time in her packed schedule for rehearsals, practice, and performances. "I do a lot of rehearsing in my car (if my kids can stand it)," she says. "It can be a big juggle at times, fitting all the scheduling pieces together, but we make it work because my family knows how important it is to me."
Her efforts are rewarded. "WomenSing not only fulfills the need for having music in my life, but it has introduced me to a diverse, talented group of women who all have the same interest. We are all in different stages in our lives, and dealing with a variety of challenges… and we check all of this at the door and come together to make music."
For Kristan, one especially meaningful aspect of WomenSing is the Youth Inspiring Youth program, which gives young composers an opportunity to create new music based on the poetry of children who have won Berkeley's River of Words competition. She describes as "magical" the times when Grammy-award winning composer Libby Larsen comes in to work with the young composers and the chorus. "I feel honored to be a part of that process," she says.
She loves singing traditional music, but has also learned that contemporary pieces can grow on her, sometimes becoming her favorites. "The more you learn about a piece, the more you understand it. It is a great feeling to perform a challenging piece well!"