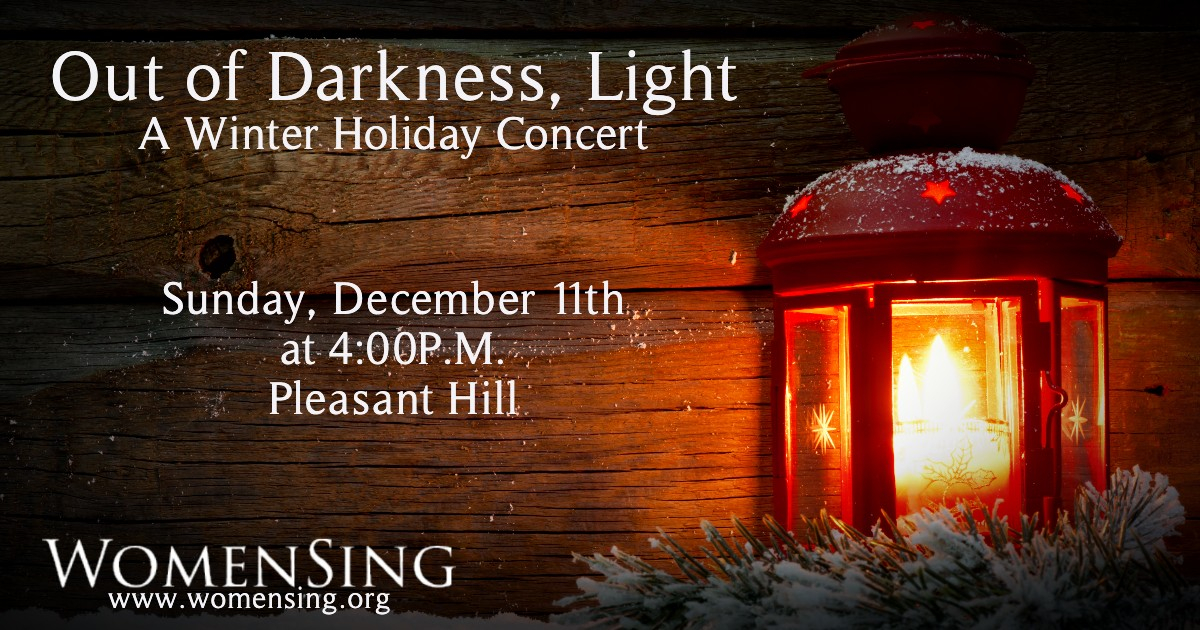 Out of Darkness, Light
A Winter Holiday Concert
This Holiday Season, bring your family and friends to hear the brilliance and wonder of Out of Darkness, Light. Witness with WomenSing the majesty of a starry heaven, the shimmering flames of the northern lights, and the radiance of the first glimpse of dawn. Join us as we sing of a goddess rich in wisdom, of angels shaping clay, a knowledge-giving apple, and the heavenly smith who wrought the firmament above.
You will hear songs derived from various cultures describing these universal experiences of light shining out of darkness. Languages you will hear include Irish Gaelic, Latvian, Icelandic, Farsi/Persian, Latin, and French.
At the concert, we will also have The Light of Hope Returning books available for purchase. This book is a companion to the full-length animated feature and is a beautiful art and prose book to display in your home. You may purchase these books online to ship (US & Canada) or pick them up for free at the concert. More details and purchase information can be found on The Light of Hope Returning website (click here).
Join WomenSing for an unforgettable hope-filled concert that will illuminate your holidays.
Concert & Reception Information
Sunday, December 11th at 4:00PM PT
St. Andrew's Presbyterian Church

1601 Mary Drive
Pleasant Hill, CA 94523
There will be an informal reception in the adjacent hall from the main church immediately following the concert. It will include light refreshments, singalongs, and some familiar Holiday tunes. We hope everyone can join us in celebration of the return of live music!
Ticket Information
$15 – Under age 18
$30 – General Admission
$40 – WomenSing Supporter
Health and Safety
WomenSing members are vaccinated against COVID-19. We strongly recommend vaccinations and masks to protect you and all audience members.