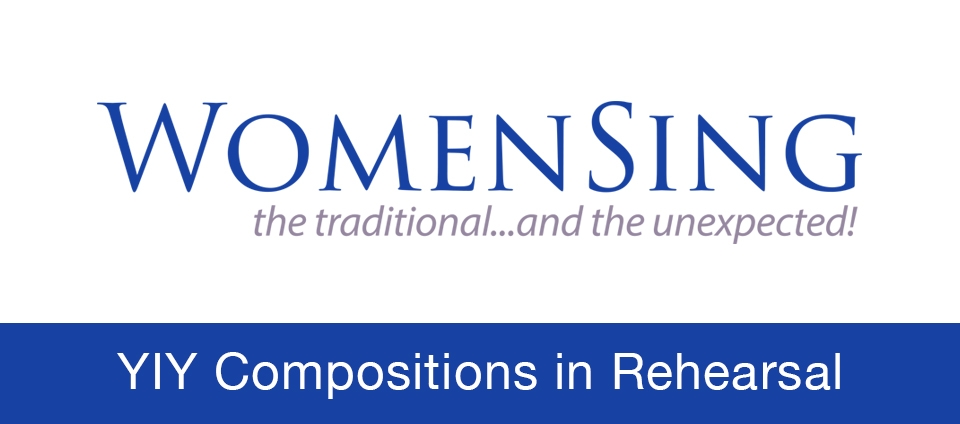 Rehearsals are underway for the 2012 Youth Inspiring Youth (YIY) compositions from this year's competition winners, Dale Trumbore and Anastasia Pahos. In a twist on the usual YIY program, both composers have created choral pieces using the same poem, Reflections, by River of Words award winner, Lindsay Ryder. Well-known American composer Libby Larsen along with Australian composer Sandra Milliken have mentored the young women during the creative process of the last few months. As a women's chorus, WomenSing can't help but enjoy this remarkable ensemble of "girl power."
Reflections

Sometimes,
when the mountains
reflect on rivers,
you can find out things
you never knew before.
There are flowers up there,
rocks like clouds,
a little snow becomes a creek
and grows into a river.

— Lindsay Ryder
The foundation of this year's YIY project is Lindsay Ryder's poem Reflections, which expresses her love for nature. According to Ryder, "Some people like the ocean, some like the desert, I am in love with the mountains — they take my breath away. I find peace and connect with God the strongest when I am surrounded by nature." Considering that Ryder grew up in Bend, Oregon, it's no surprise that she finds spiritual peace and inspiration in the mountains (see the photo above): "I think it is a beautiful thing how the world takes care of itself — the snow on the mountains becomes the rivers and streams that support our lives."
In light of Ryder's comments, it's perhaps no coincidence that Dale Trumbore's SSA composition,Reflections, places a clear emphasis on the last two lines of the poem: "A little snow becomes a creek and grows into a river." During the creative process, Trumbore and WomenSing's director Martín Benvento had an interesting email exchange regarding the music at the end of the piece. Benvenuto writes: "[I] wonder if being anticlimactic here would work dramatically, i.e. resist the more obvious "grows into a river" image, and let it all gradually trickle down, reflecting more the organic flow of things that the poem describes." In response Trumbore writes: "I'd been debating what to do with the ending…; I very much like your suggestion … which will likely serve the piece better than a big, climactic chord at that moment." In the end, Trumbore followed her instinct and concluded the piece with a beautiful, but understated piano solo.
While Anastasia Pahos uses the text of the poem Reflections throughout her piece, she renamed the composition Isle of the Bless'd. This name distinguishes her composition from Trumbore's and piques our curiosity about the decision. When asked about the new title, Pahos mentions "heavenly souls/celestial beings which dwell in (or haunt) a beautiful valley," perhaps encouraging a more mythological interpretation of the poem. Written for four treble voices (SSAA) as well as two soloists, the piece often divides further into six voices for the chorus, resulting in a texture that Benvenuto described to singers as "highly imaginative" and "tricky, but cool." Pahos herself describes the piece as a "cross between Gregorian chant, requiem, cultural dance and film." During the first rehearsals singers also noticed an interesting technique Pahos uses with the lyrics, giving one voice the first syllable of a word to sing and a different voice the second syllable.
Throughout the rehearsal process, the singers are sure to develop a better understanding and appreciation for the different musical and artistic choices Trumbore and Pahos made. Will there be a favorite? Will one piece more clearly reflect the original inspiration of the poem? Will this choice be completely dependent on the musical taste of the listener or the singer? Decide for yourself by attending the composer workshop on April 28 with Libby Larsen and Sandra Milliken and the spring concert, Full Circle, on June 3 and 6 where WomenSing will present the world premieres of both pieces.