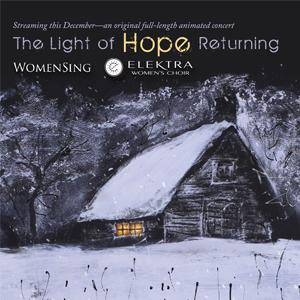 Unique in the landscape of virtual choir projects, The Light of Hope Returning is a combined effort of WomenSing of the Bay Area, California (Director, Ofer dal Lal) and Elektra Women's Choir, of Vancouver, Canada (Director, Morna Edmundson). This international collaboration features the music of Shawn Kirchner (Los Angeles Master Chorale Composer-in-Residence) and the hand-drawn animation of Kevork Mourad, bringing together 70 women's voices in homage to the holiday season. The Light of Hope Returning poignantly reflects the current state of global uncertainty, while at the same time ultimately trusting in the cycle of the seasons and the hope embodied by the eventual return of light. 
With few concert-length works specifically for women in the choral music repertoire, Dal Lal sought Kirchner to create an American folk solstice oratorio. The Light of Hope Returning is an American folk solstice oratorio that includes arrangements of beloved traditional carols along with an equal number of newly written carols, several of which feature texts by Newbery Honoree author Susan Cooper, revered for her poem The Shortest Day, and The Dark is Rising.  Canadian soloist Allison Girvan and instrumentalists from the San Francisco Opera Orchestra are also featured.
New York-based visual artist, Kevork Mourad, will animate The Light of Hope Returning. Mourad specializes in live performances combining video and hand-drawn elements.
Watch the trailer The Light of Hope Returning • Streaming Today - YouTube
Watch Meet the Artists The Light of Hope Returning - Meet the Artists - YouTube