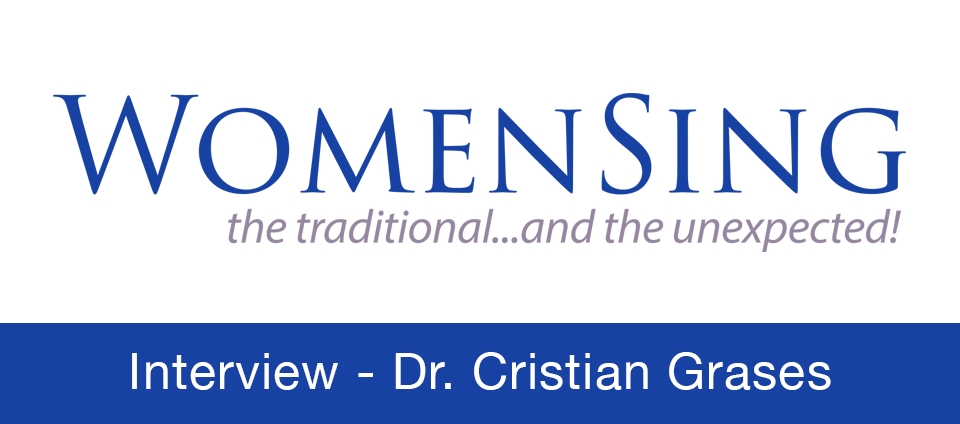 Dr. Cristian Grases is the guest clinician at our upcoming Treble Voices Now Festival (TVN). An assistant professor of choral music at USC in Los Angeles, he is an award-winning composer with extensive experience as a choral conductor. He will take a leading role both at the Youth Inspiring Youth workshop on Friday night, April 11, and the individual clinics with participating choruses on Saturday morning. Cristian told us that he very much likes "the connection between the artistic creation (composing) and the artistic re-creation (rendering) of music, all geared towards achieving the best artistic result possible."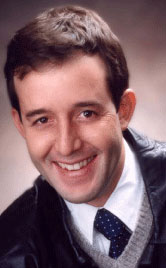 In his view, TVN "is all about connections with a creative vortex: poets and composers are connected, then interpreters and composers are connected, and ultimately they all offer their art to the audience. Together we are able to produce a result that far exceeds any individual effort; and is this not what defines humanism in the purest of senses? Imagine what we could achieve as a society if everybody had ideals like these present in their day-to-day activities!"
The following interview covers a wide range of topics.
WomenSing: As faculty member of USC, what do you see emerging in the choral world?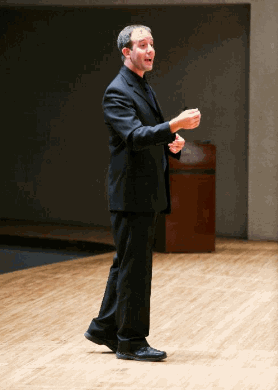 Cristian: USC is an interesting environment. There is a confluence of ideas and ideals. The students that arrive are well prepared, and some of our graduate students already have had relevant careers in our field. There is also a very interesting mix of backgrounds and geographical origins. The trend I see is more interconnection. Students that have extensive background in one culture but are interested in another; students that want to combine different stylistic approaches mixing performance practices as have been established in the past; or interconnections between fields such as composers that conduct or conductors that compose, or simply composers and performers that get together in collaboration. I like this.
WomenSing: What are you currently working on that is really exciting?
Cristian: I have been dedicating an important portion of my efforts to "mapping" the Latin American Choral Heritage. I call it "heritage" because it is all: its origins and first important players, the relevant works of the past, the new composers and ensembles, the new works and trends, the styles, etc.; and how to create bridges between that world and the choral scene in North America and the world. I think it is very important to offer a window for composers and conductors of Latin American choral music to be known by performers around the world, and also consider it important for all performers to know how to approach and perform this rich and diverse repertoire.
As a composer, I am finishing a five-movement Gloria in Spanish based on different Latin American traditional rhythms/dances. This work is for treble voices and will be premiered at Carnegie Hall this June with a choir of 200 singers from all over the world. As you can see, it is a very exciting project in which my conducting and composing side come together with my love of international cooperation.
WomenSing: What parts of composing and conducting are your least favorite?
Cristian: In the conducting side, there is much that has to be done that is not musical. Some of my favorite things to do are discovering new repertoire (new for me, because it could be a colonial work that I am discovering), and also discovering its intricacies through score study. It is like a treasure hunt of some sort, in which you identify the moments in the composition in which you anticipate being able to create a special moment on stage. But to get to that point you have to do, as a conductor, a myriad of things that are not as fun (auditions, logistics, calendars, budgets, and fundraising, etc.). I dislike doing this, but the musical rewards keep me going.
As a composer I see the world differently, essentially because it is a very individual journey. It is you with your ideas, thoughts, muses, etc.; whereas the conducting side is essentially a social event (even though all your preparation work is very individual, too). As a composer I think creating macro structures and perhaps initial melodic material that sustains or justifies the structure I am thinking comes fairly easy to me. Setting streams of words to melodic arcs is also fairly easy. Once this is done, my life as a composer becomes much more complex. I struggle with completing the composition; with writing all the details and deciding on which note to write where in order to complete it. It is tedious and very hard work for me, in some cases, a very frustrating one. I don't think I am unique in this.
Composing is simply a craft that requires commitment and discipline. However, what keeps me going is that deep satisfaction of seeing a work finally completed.
WomenSing: What is the difference in your approach when working as a choral clinician versus conducting your own group? And, what is most enjoyable about each role?
Cristian: The approach is essentially the same: how can we serve the music better? We as performers are humble servants of music. Our role is to identify what the music needs to be performed at the highest artistic level possible and use all our technical preparation and creative spark to be able to provide this. The difference between a clinic and a rehearsal with my own choir is that in a clinic I can only offer ideas and suggest new ways that perhaps might help to achieve this higher level of artistry; and we might try some of them together. I have more time and control of this process within my own rehearsals. The biggest enjoyment is to be able to actually achieve this higher artistic level that you are seeking.
You are Invited!
Join WomenSing and the Treble Voices Now choirs on Friday evening, April 11th from 6:30 to 9:30 p.m. to listen in on the Public Workshop with clinicians Martín Benvenuto and Cristian Grases. Then return on Saturday morning, April 12th to observe Clinics where the guest choirs explore their own contemporary repertoire and meet the YIY composers. You are especially encouraged to attend the Festival Concert, which showcases all the choirs, on Saturday, April 12th at 3:00. Hear each choir perform its own material, culminating in workshop performances of the Youth Inspiring Youth compositions. All the events at the Treble Voices Now Festival take place at the Lafayette-Orinda Presbyterian Church in Lafayette, located at 49 Knox Drive, and are free!
Youth Inspiring Youth Public Workshop
Friday, April 11, 2014
6:30 – 9:30 p.m.
Saturday, April 12, 2014
9:30 a.m. – 12:30 p.m. Individual Chorus Clinics with Cristian Grases
(locations to be posted)
11:00 a.m. and 11:45 a.m. Meet the YIY Composers
Treble Voices Now Festival Concert
Saturday, April 12, 2014
3:00 p.m.
All TVN Festival events are free.
Location: Lafayette-Orinda Presbyterian Church
49 Knox Drive, Lafayette