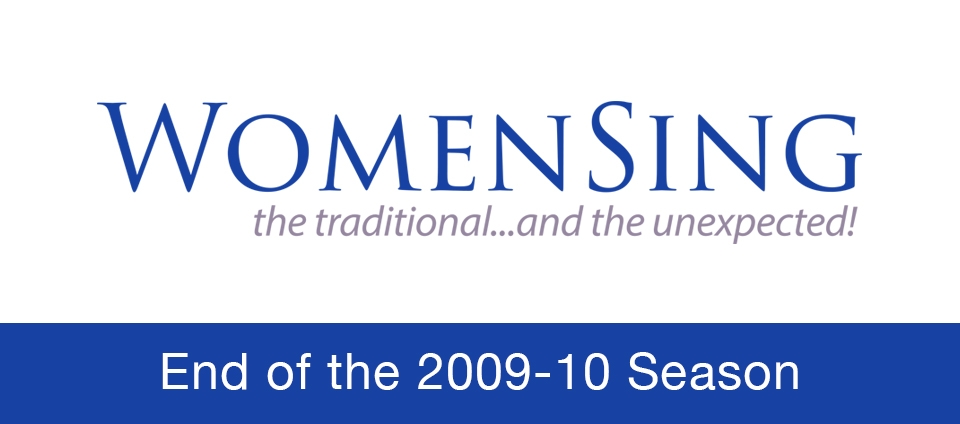 Artistic Director Martín Benvenuto, composer and mentor Libby Larsen, and YIY composer Joshua Fishbein review Fishbein's score for Unseen Secrets
The finishing touches are being put on the last WomenSing performance of the season as we prepare to premiere two new pieces, the latest in the Youth Inspiring Youth (YIY) program. As part of their on-going YIY mentoring, reknowned composer Libby Larsen recently visited WomenSing for a day-long workshop with composers Elizabeth Lim and Joshua Fishbein.
Both of our young composers will be speaking to the audience before the concerts begin, so please join us for the pre-concert discussions to hear about their music and their YIY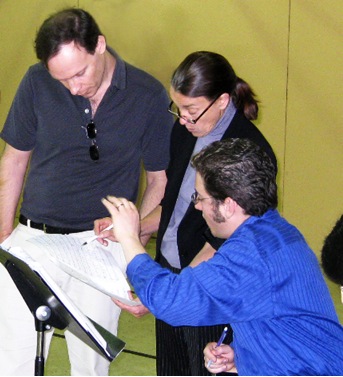 experience. Youth Inspiring Youth compositions are based on the highly inspired children's poetry from the River of Words project.
Along with the premieres of Unseen Secrets and Elizabeth Lim'sSisyphean, this month's concert, "Songs From a New World" will feature music from the Americas including:
~ two pieces by featured composer Stephen Paulus, acclaimed as "…a bright, fluent inventor with a ready lyric gift." (The New Yorker)
~ a selection from Old American Songs by iconic American composer Aaron Copland
~ a merengue from the Dominican Republic, featuring piano, güira and tambora.
We look forward to seeing you for our final event of the season!