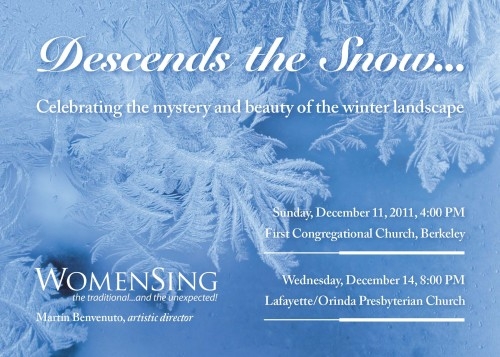 The East Bay's award-winning WomenSing kicks off the holiday season with a concert entitled Descends the Snow. Under the direction of conductor Martin Benvenuto, WomenSing will perform a broad range of seasonal favorites and music celebrating the mystery and beauty of the winter landscape. Descends the Snow will open on Sunday, December 11th, at 4:00 pm at the First Congregational Church in Berkeley at 2345 Channing Way. The concert will be offered a second time on Wednesday, December 14th, at 8:00 pm at the Lafayette/Orinda Presbyterian Church at 49 Knox Drive in Lafayette.
Descends the Snow includes two pieces by internationally acclaimed Australian composer Sandra Milliken, the featured composer throughout WomenSing's 2011-2012 concert season. Ms. Milliken's composition, Snowflakes, is an evocative and haunting musical interpretation of the Henry Wadsworth Longfellow poem. WomenSing is pleased to be one of the first choruses to perform Ms. Milliken's lively Hodie Christus Natus Est, just composed and published within the past year. Also on the program is Five Hebrew Love Songs by well-known American composer, Eric Whitacre. Composed while Whitacre was living in the Swiss Alps, the piece is a sentimental setting of several Hebrew love poems written by Whitacre's wife, Hila Plitmann, and features stunning harmonies for violin and choir. Along with other beautiful pieces depicting a winter landscape, WomenSing will present David Conte's delightful Christmas Intrada, a festive medley of carols for treble chorus and four-hand piano.
Order your tickets online now! $25 for premium seats, $20 for general admission, $18 for seniors, and $10 for students/youth 18 and under.