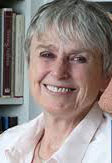 About Susan Cooper
by Elaine Lind 
Shawn Kirchner's commission for WomenSing, "The Light of Hope Returning", reveals the idea of the promise of hope from the perspective of a woman, and shares a celebration of Solstice/Christmas/New Year to restore hope in troubled times. The title was taken from a poem by Susan Cooper, whose writings will be featured in poetry, and will provide inspiration for new song settings. 
Cooper was born in 1935 in Buckinghamshire, attended Somerville College at Oxford where she was the first woman to edit the undergrad newspaper "Cherwell". Upon graduation she worked as a reporter at London's Sunday Times under Ian Fleming, and began writing in her spare time. She moved to the States where she married and raised two children. She divorced in 1983 and married Hume Cronyn in 1996. They were together until his death in 2003.  
In 2012 Cooper was awarded the lifetime Margaret Edwards Award from the American Library Association "recognizing her significant, lasting contribution to children's literature".   
Her name is well recognized by people who are familiar with a classic, 5 volume series of youth fiction called The Dark is Rising. Written in the 70's, they draw on British mythology such as Arthurian legends and Welsh folk heroes.  Revels founder John Langstaff has Cooper to thank for her many literary contributions to Revels content.  A friend of Langstaff, she authored his biography, celebrating his passion for music, ritual and community that fused the spark in the creation of Revels. (Oakland is one city fortunate to have an annual production each year). Over the course of many years as a Revels contributor, she wrote lyrics, poems, short stories and short plays and as recently as 2016 she contributed to their Welsh themed production.  
Cooper's strong fantasy-themed creations are forged in a WWII childhood when the family, not allowed out after dark due to air raids, spent time reading by candlelight in their underground shelter. Cooper says "Every air raid was a reminder that an enemy was trying to kill us, and I developed a very real sense of 'us and them', 'good and evil', the Light and the Dark'." 
Cooper's words, inspiring as they are in her poem "A Joyous Welcome: the Light of Hope Returning" will be a strong motivation to witness this extraordinary concert, and that the message therein will become part of important choral repertoire for years to come.