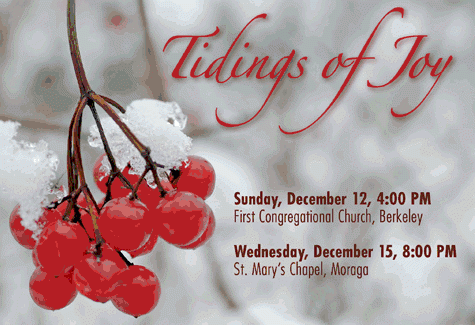 This year, our 45th as a chorus, we offer a diverse selection of songs to raise your spirits, gladden your hearts, and nourish your soul. From the haunting harmonies of Eric Whitacre's Lux Aurumque (see below) to the witty and delightful Toast pour le Nouvel Anby Rossini,  from the frisky Finnish song, Hanget Soi, to a holiday classic, O Holy Night, we hope to fill you with the joy of the season.
Dates and venues for the concerts are:
You have several choices for buying tickets:
Charge tickets by phone: 925-297-5289 (WomenSing's own voicemail)
Buy tickets online
Buy tickets at the door
Ticket prices are as follows:
Premium $25
General $20
Senior (60+) $18
Student/Youth 18 and under $10
We hope to see you at our concerts! Because, while we enjoy singing for ourselves, we love singing for you!
Lux Aurumque, Light and Gold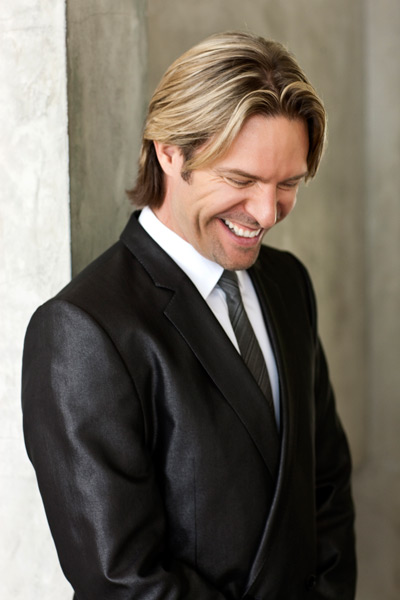 This holiday season WomenSing will perform Lux Aurumqueby Eric Whitacre from a poem by Edward Esch, translated into Latin by American poet Charles Anthony Silvestri:
Light,
warm and heavy as pure gold
and the angels sing softly
to the new-born baby.
Lux had an interesting inception. It was commissioned by a choral conductor in memory of his recently deceased father. Whitacre chose an English poem, had it translated into Latin, and composed this elegant, chant-like piece.
Whitacre sent the piece to the conductor who'd commissioned it, but he never heard back. No communication, no payment. "I still have never heard back from him. So I was left with this piece that I wrote. It wasn't that I was bitter, but it was like, I can't believe this guy tricked me into writing this piece! But the more that I perform it, I realize it was such a blessing, sort of a real gift in a way. So, I think I return to it all the time because somewhere in that music is this great lesson of humility for me."
The beauty of Lux Aurumque lies in how Whitacre depicts the image of light with tight harmonies that shimmer and glow. At the end, the light sheds on the image of the new-born baby with simple yet striking elegance.
Whitacre's Virtual Choir projects on YouTube are helping him find a new and sometimes younger audience. Click Virtual Choir to see and hear the virtual performance of Lux Aurumque.
And, be sure to come to one of our holiday concerts to hear Men and WomenSing performLux Aurumque!
(Quotes from Alex Hoffman interview with Eric Whitacre for Suite 101.com.)