WomenSing is very excited to introduce Julia Seeholzer, winner of the 2013 Youth Inspiring Youth (YIY) composition competition. As our YIY winner, Julia will write a piece for WomenSing to be premiered in June 2013.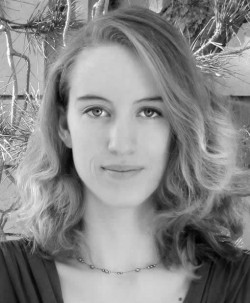 Originally from Santa Monica, CA, Julia displayed an affinity for music very early on, composing her first piece at the age of five and taking up piano at six. Throughout her youth she played French Horn in bands and orchestras and sang alto in various choirs. This past May, Julia graduated summa cum laude from the Berklee College of Music in Boston, MA with a B.M. in Composition.
During her time at Berklee, Julia received numerous awards for her compositions, including the Laurie Anderson Women in Technology Award and the 2011 Berklee Composition Achievement Award. Last year, she was invited to participate in Yale University's New Music Workshop as a Composition Fellow. In addition to her more conventional musical pursuits at Berklee, Julia founded and directed the Video Game Music Choir (VGMC), a 25 member vocal ensemble that performs video game scores arranged for a cappella choir.
Julia's work experiences have provided an interesting complement to her formal music studies. She interned at Columbia Records and worked in the film scoring department at Berklee as well as the Berklee City Music High School Academy. Currently, she is a personal assistant to pop singer Vonda Shepard.
This summer, Julia is continuing her composition studies with John Corigliano and David Tcimpidis at the California Summer Music program through Sonoma State University. She is also working on new arrangements for VGMC and an SATB choral piece for Tenuto, a chamber choir at Berklee.
Get to know Julia better by listening to some of her music: Escape from the City (for VGMC), Uneven Strides (for Yale's New Music Workshop), and Trio in Scattered Leaves. Her web site, juliaseeholzer.com, provides even more information and links. Welcome to YIY, Julia!