2019-2020 Concert Season
Fall Gala and Auction
Please join us for a celebration of local art and cuisine in support of WomenSing. Established in Orinda in 1965, WomenSing has grown to be amongst the Bay Area's finest ensembles - truly Lamorinda's very own, locally grown choir. Our community's support of WomenSing has helped the choir bloom and feed the musical souls of the East Bay and beyond. Your presence at our 21st Fall Gala and Auction ensures WomenSing remains sustainable.
Silent and live auction items will include fabulous themed gift baskets, delicious wines and tickets to "Pay-to-Play" events where our singers host an array of fun, informative and special experiences for all. Come and hear our Artistic Director share exciting plans for the 2019-20 season which will include commissions of new music, unforgettable choral events and many other surprises! Admission includes hosted wine and beer bar, hors d'oeuvres and desserts, catered by Carol Gilliland, A Loveable Feast. There truly will be something for everyone at this inspired event. We thank you for your support and look forward to seeing you in October!
Reservations are required. $65 per person, $110 per couple (1 bidder number per couple).
Sunday, October 6, 2019, 4:00 PM
Pleasant Hill Community Center (map)
RESERVATIONS
---

Voyage – Exploring the essence of France with Cappella SF
WomenSing joins Cappella SF, the Bay Area's professional choir, and GRAMMY-Award winning conductor Ragnar Bohlin on a journey through great choral music by best-loved French composers.
The concerts feature music of Josquin, Debussy, Poulenc, Couperin, Duruflé, Fauré, Messiaen and more.
Saturday, November 23, 2019, 8:00 PM
Santa Maria Church, Orinda (map)
TICKETS
---
The Light of Hope Returning
WomenSing is thrille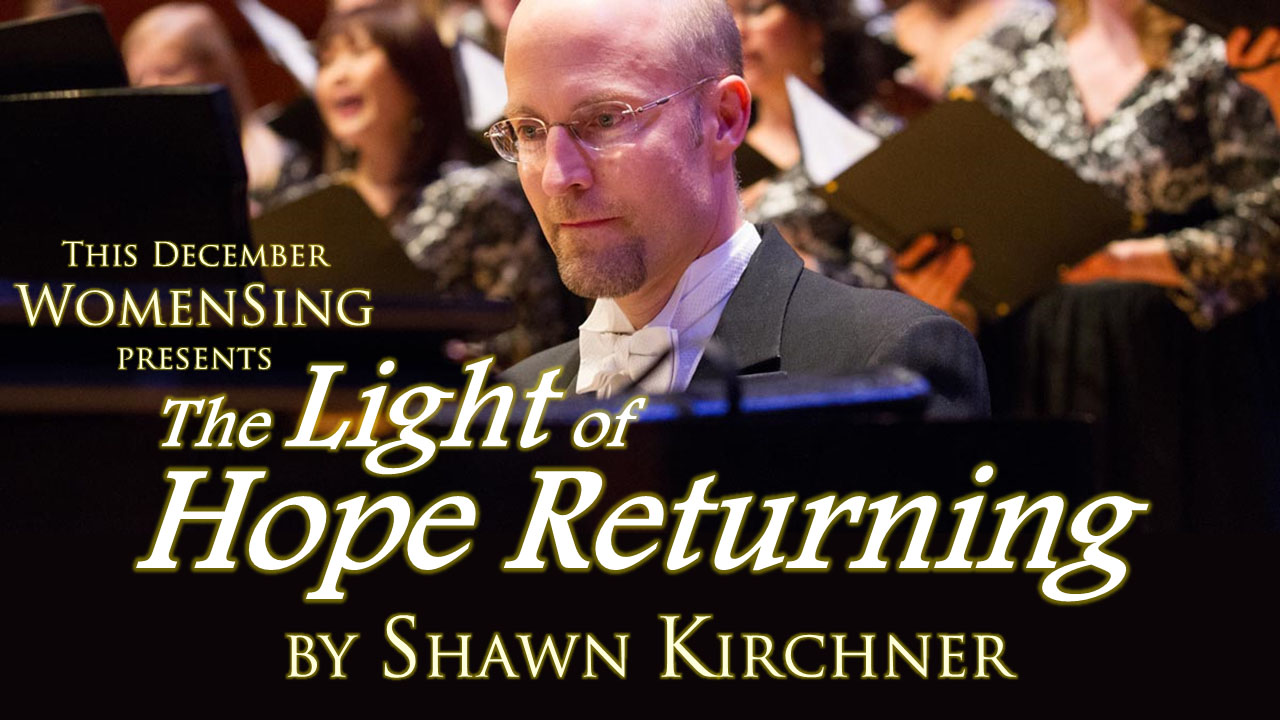 d to announce an exciting large-scale commission by renowned composer, Shawn Kirchner. Inspired by the album Folkjul, a Christmas suite influenced by Swedish folk traditions, WomenSing's artistic director, Ofer dal Lal has invited Mr. Kirchner to dream up a concert-length American "folk Yule".
Scheduled to be performed on December 11th and 15th 2019, the project will feature a combination of Kirchner's instrumental improvisations and carol settings from American song and spiritual traditions. These carols and songs will be woven into a dramatic arc which tells of the return of light after dark times.
Kirchner intends for the work to be figuratively told from the perspective of a woman "wise in years, who has seen it all, having lived through seasons of great gain and great loss, and whose celebration of rebirth at the time of Solstice/Christmas/New Year is her antidote to hopelessness in troubled times." 
Lending the project its title, "The Light of Hope Returning," the writing of author Susan Cooper will be featured in several new song settings by Kirchner, along with a number of his original songs.
 
Wednesday, December 11, 2019, 8:00 PM
Saint Andrew's Presbyterian Church, Pleasant Hill (map)
TICKETS
---
Tales from the Caravan  "From the borders of nothingness... we have come."
WomenSing unveils ancient tunes and lyrics about journey and shelter. Pieces in Arabic, Hebrew, Sanskrit, and Medieval Farsi weave stories of longing and compassion. Storyteller Dana Sherry joins with narration of stories of migrants presented between musical numbers.
Hosted reception to follow.
~
Dana Sherry, Storyteller
Lee Dynes, Oud
Joanne de Mars, Cello
Peter Maund, Percussion
~
---
Revelations from the East – Russian choral masterpieces with Cappella SF
WomenSing joins Cappella SF, the Bay Area's professional choir, and GRAMMY-Award winning conductor Ragnar Bohlin in a program celebrating the magnificent choral tradition of Russian.

The program includes such iconic figures as Rachmaninoff and others less familiar like Schnittke. This is a journey into the heart of Russia. Influenced by Russian nationalism and folk culture, symbolist literature, romanticism and the deep choral tradition of the Orthodox church, Russian composers have produced some of the most awe-inspiring and powerful compositions of the choral genre. 
---
Fire-Flowers
We hail the life-giving qualities of Light and of Fire and tremble before the mighty devastation they may bring about. All-too-known to California, the power of fire can bring loss or prosperity. With songs about light that inspires hope or fear, WomenSing presents a program of great complexity and beauty.
Wednesday, June 3, 2020, 8:00 PM
St. Andrew's Presbyterian Church, Pleasant Hill (map)
Sunday, June 7, 4:00 PM
First Presbyterian Church,Alameda (map)
TICKETS: Available soon