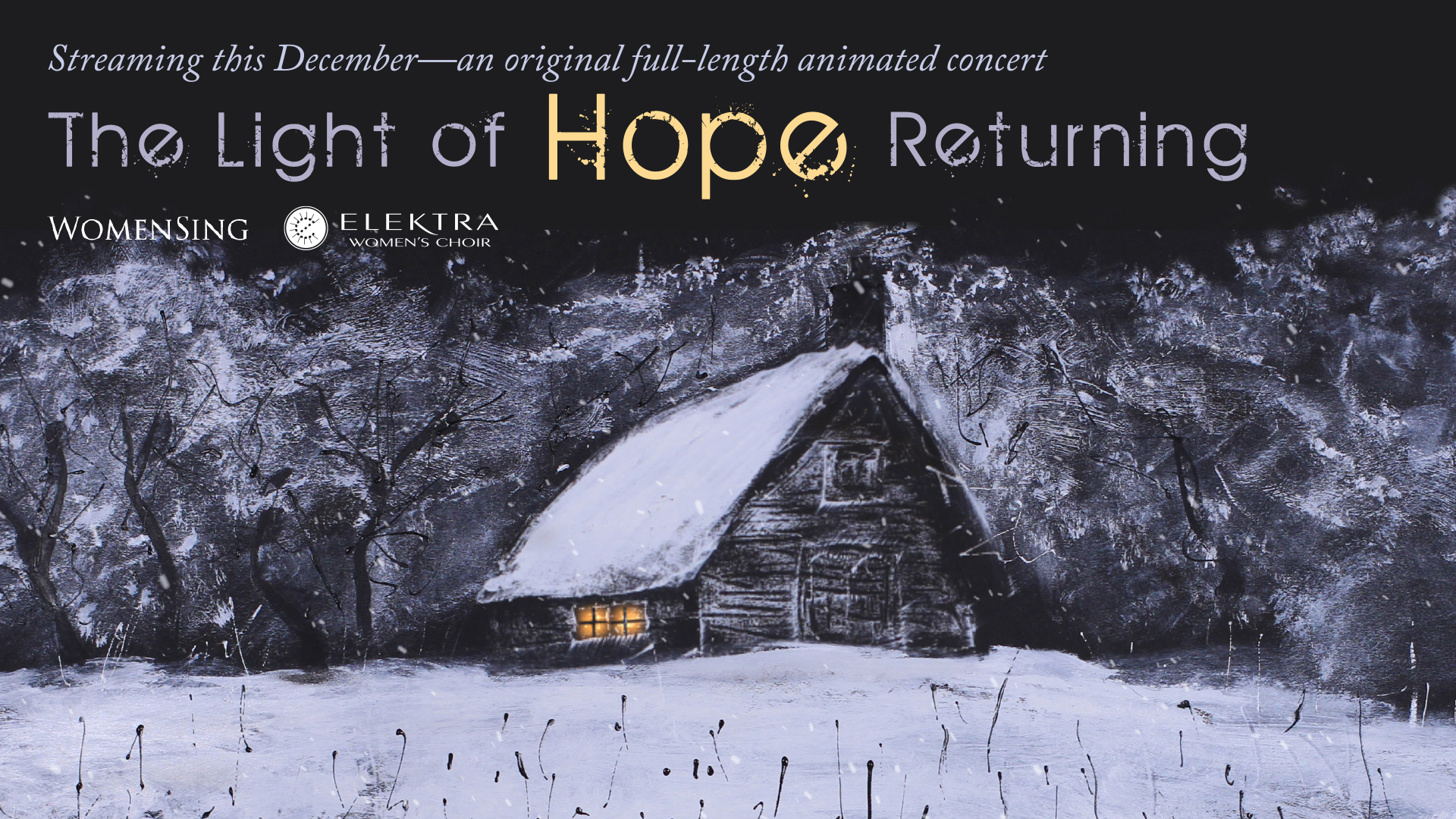 The Light of Hope Returning: Video Re-Release!
Available Tuesday, December 21, 2021 at 6:00pm PST / 9:00pm EST through Thursday, January 6, 2022 at TheLightOfHopeReturning.com
You can hear and view it again!  We are re-releasing The Light of Hope Returning, the stunning concert-length video that premiered in December, 2020. This is our free Holiday gift to you. Thank you so much for your continued support.
Recorded during the fall of 2020, The Light of Hope Returning is a combined effort of WomenSing of the Bay Area, California (Director, Ofer dal Lal) and Elektra Women's Choir, of Vancouver, Canada (Director, Morna Edmundson). This international collaboration features the music of Shawn Kirchner (Los Angeles Master Chorale, formerly Composer-in-Residence) and the hand-drawn animation of Kevork Mourad, bringing together 70 women's voices in homage to the holiday season and winter rituals. The Light of Hope Returning is a Holiday folk oratorio that taps into the lush variety of American musical heritage, with offerings of new carols and arrangements of familiar ones. Enjoy hearing the traditions of folk, gospel and Appalachian songs along with the colors of fiddle, bluegrass-style piano, and jubilant jazz saxophone. This memorable multi-media performance also features Canadian soloist Allison Girvan, and instrumentalists from the San Francisco Opera Orchestra.
Kevork Mourad's amazing animation brings a visual counterpart to this landscape. Celebrated New York-based visual artist, Mourad specializes in live performances combining video and hand-drawn elements, as well as multi-layered paintings. Some of his many notable collaborations include Yo-Yo Ma and The Silk Road, and Handel's Israel in Egypt for the Los Angeles Master Chorale. His works are in the permanent collection of the Institut du Monde Arabe in Paris.
Don't miss this free and festive mid-winter online experience. To view, visit TheLightOfHopeReturning.com for the link to the video. The broadcast will begin on Tuesday, December 21, 2021, at 6:00 pm PST, and 9:00 pm EST. This 70-minute video will remain available for viewing up to and through Thursday, January 6, 2022.