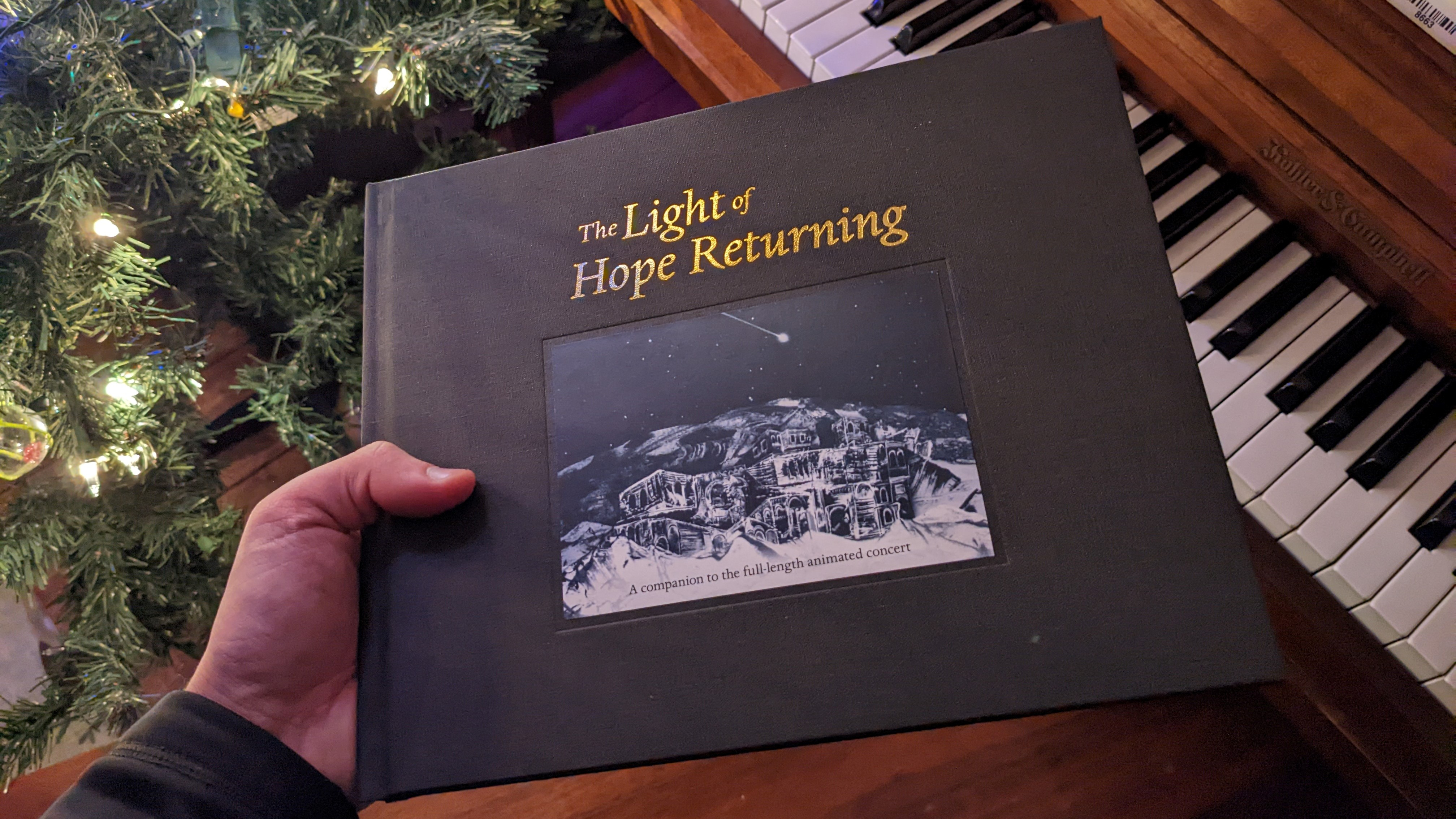 The Light of Hope Returning Book - Available Now
A Companion to the Full-Length Animated Concert
We are excited to announce the release of The Light of Hope Returning book - a companion to the full-length animated concert. This publication is an art and prose book to display in your home. As you turn each page (126 pages total), you will discover the beauty of its art with over seventy-five images by animator Kevork Mourad. Read through the prose and story that composer Shawn Kirchner chose and from which his compositions have come to life. And, this book gives a bit of history and perspective as well. There are six articles about various aspects of producing a concert-length work. These articles depict the challenge for choirs, composers, artists and musicians to collaborate together to create large works, and the joy in doing so. And, as an early pandemic work, The Light of Hope Returning is truly one of the very outstanding endeavors to emerge from this time.
The Light of Hope Returning book is available for purchase on The Light of Hope Returning main website (click here). From here, you may place an order using the forms provided. Please follow the instructions on the form to place your order. Once the form is submitted, a PayPal invoice will be sent to the email provided within 1-2 business days. Books will only be shipped after the invoice is paid. Please email [email protected] with any questions.
This December, The Light of Hope Returning will make its second yearly debut online for viewing. This broadcast event will begin on Wednesday, December 21, 2022, and will remain available through Friday, January 6, 2023. We invite you to relive this beautiful concert of hope, light, and winter's embrace alongside your new companion book for a unique multimedia experience.
2022 Viewing Event Information
Begins: Wednesday, December 21, 2022 at 6:00PM PST / 9:00PM EST
Ends: Friday, January 6, 2023
Where to Watch: thelightofhopereturning.com