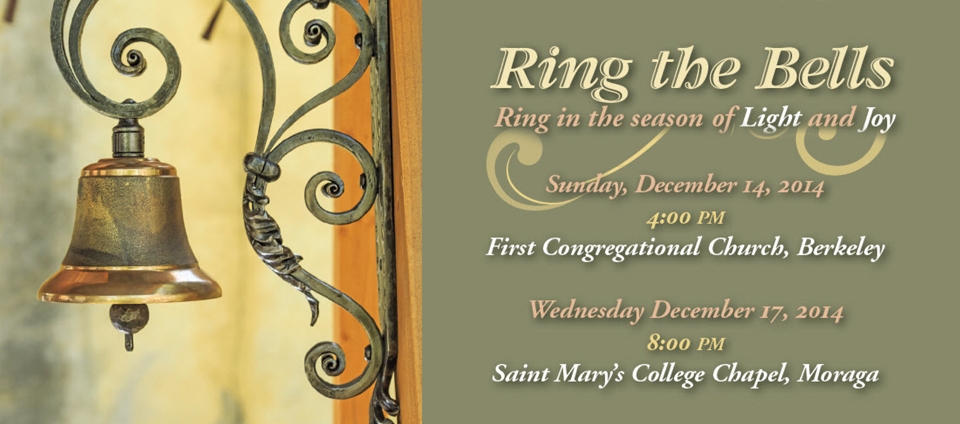 Under the baton of Artistic Director Martín Benvenuto, WomenSing presents Ring the Bells on Sunday, December 14, at the First Congregational Church, Berkeley, and Wednesday, December 17, at St. Mary's College Chapel, Moraga.
WomenSing rings in the season of light and joy with Ring the Bells, a festive celebration of song accompanied by Latin percussion, chimes, and timpani. The program opens with Bullard's Ring the Bells in a "surround the audience" effect of chimes and voices, immediately followed by the grandeur of O Viridissima Virga by composer Emma Lou Diemer, based on Hildegard Von Bingen texts. Diemer, an important figure in American choral music of the 20th century and the present time, is WomenSing's featured composer for the 2014-2015 season.
We add Latin American spice with selections including the beautiful Mexican lullaby, Señora Santa Ana, and the fun of Cantemos a María from the Dominican Republic. The concert closes with Rutter's exquisite Candlelight Carol, sung in the round. Don't miss this joyful concert of the traditional…and the unexpected!
Tickets are $30 for premium seats, $25 for general admission, $20 for seniors, and $10 for students/youth 18 and under. Advance tickets are available up to 24 hours prior to each concert online, or by phone at 925-974-9169. Tickets will also be available at the door.
Sunday, December 14, 4 pm
First Congregational Church, Berkeley
2345 Channing Way
Berkeley, CA 94704
Reception to follow
 
Wednesday, December 17, 8 pm
Saint Mary's College Chapel
1928 St. Mary's Road
Moraga, CA 94556