2018-2019 Concert Season
Watch the season preview video here:
(We recommend watching at full screen. Music starts after about 15 seconds. If you liked it, share it!)
Get season tickets HERE
Save by subscribing to WomenSing's entire Season 53!
Includes entry to any of the Holiday Concerts (12/9, 12/12) and any of the Summer Concerts (6/2, 6/5).
SEASON TICKETS  (Young Audience $20, General Admission $50, WomenSing Supporter $70)
Holiday Concerts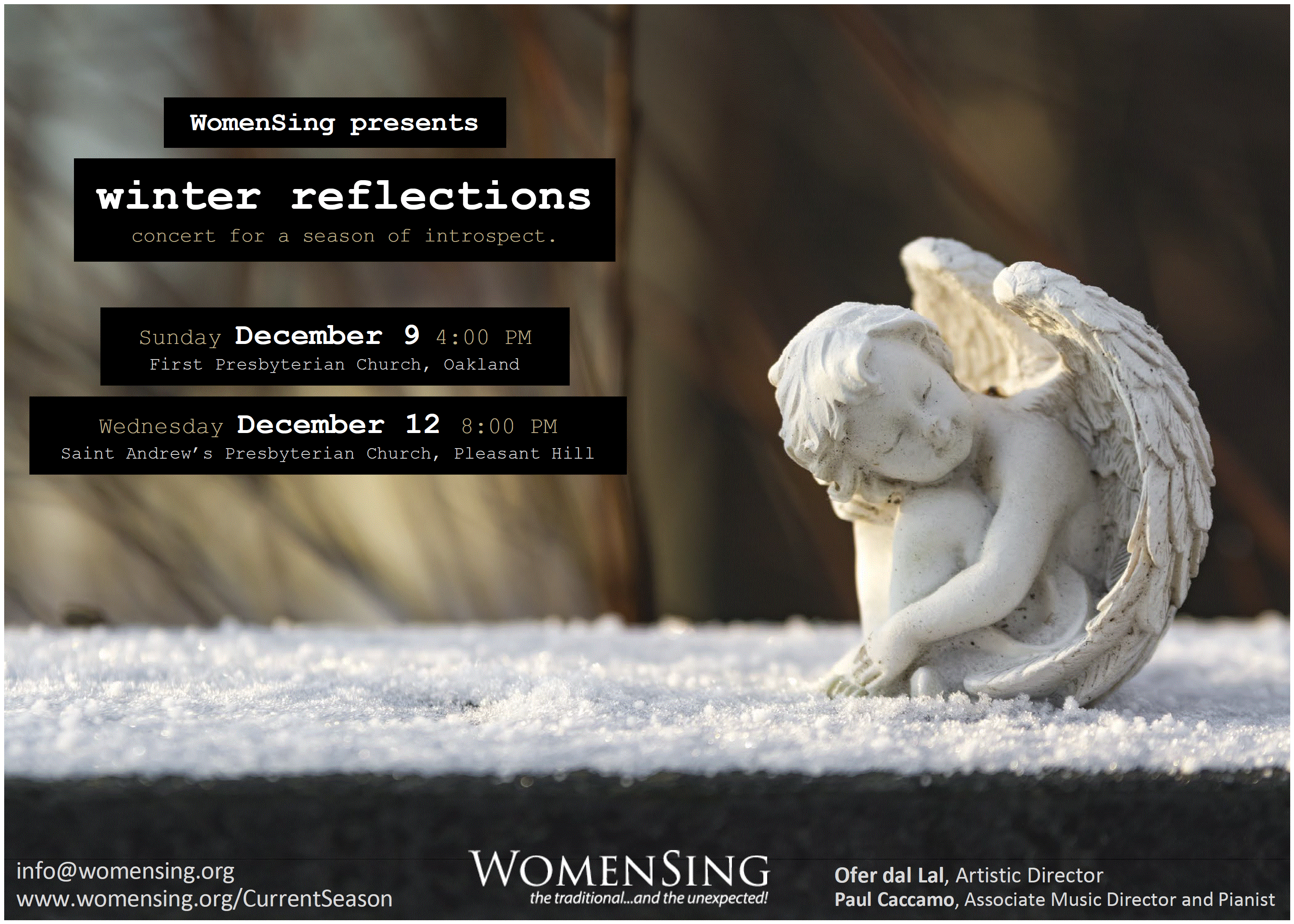 winter reflections
concert for a season of introspect.
Sunday December 9 4:00 PM
First Presbyterian Church, Oakland
MAP  |  TICKETS
Wednesday December 12 8:00 PM
Saint Andrew's Presbyterian Church, Pleasant Hill
MAP  |  TICKETS
"When the sun goes, the moon comes" I Ching (The Book of Changes)
In the season of darkness, we seek light. In the season of stillness, we look deep into our souls and ponder life. Join us in an exploration of winter wisdom from sacred and secular traditions found in an ancient Greek Orthodox hymn, an Aboriginal songline, a soft Jewish Shabbat eve tune, a contemporary interpretation of early Chinese philosophy from the I Ching, and a unique rendition of In the Bleak Midwinter, by American composer Frances McCollin, whose blindness in early childhood caused her to see colors when hearing music.
International Women's Day Event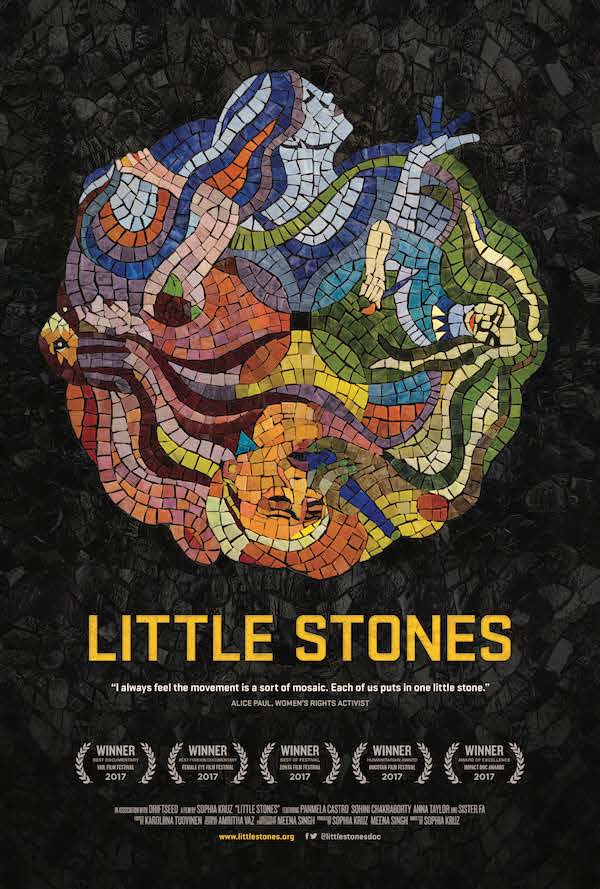 LITTLE STONES
CONCERT, MOVIE SCREENING, RECEPTION
Friday March 8, 8:00 PM
Del Valle Theatre, Walnut Creek
MAP
TICKETS:
Youth $10 | General Admission $30 | WomenSing Supporter $50
Available through Lesher Center for the Arts
Online | Phone: 925-943-7469
Little Stones unites the personal narratives of four women around the world using art to create positive change in their communities. 
a graffiti artist protesting domestic violence in BRAZIL
a dance therapist rehabilitating sex-trafficking survivors in INDIA
a rapper speaking out against genital mutilation in SENEGAL
a fashion designer fighting poverty in KENYA
Each of these women is contributing a stone to the mosaic of the women's movement through their art.
Learn more about this feature documentary at www.littlestones.org
Season Finale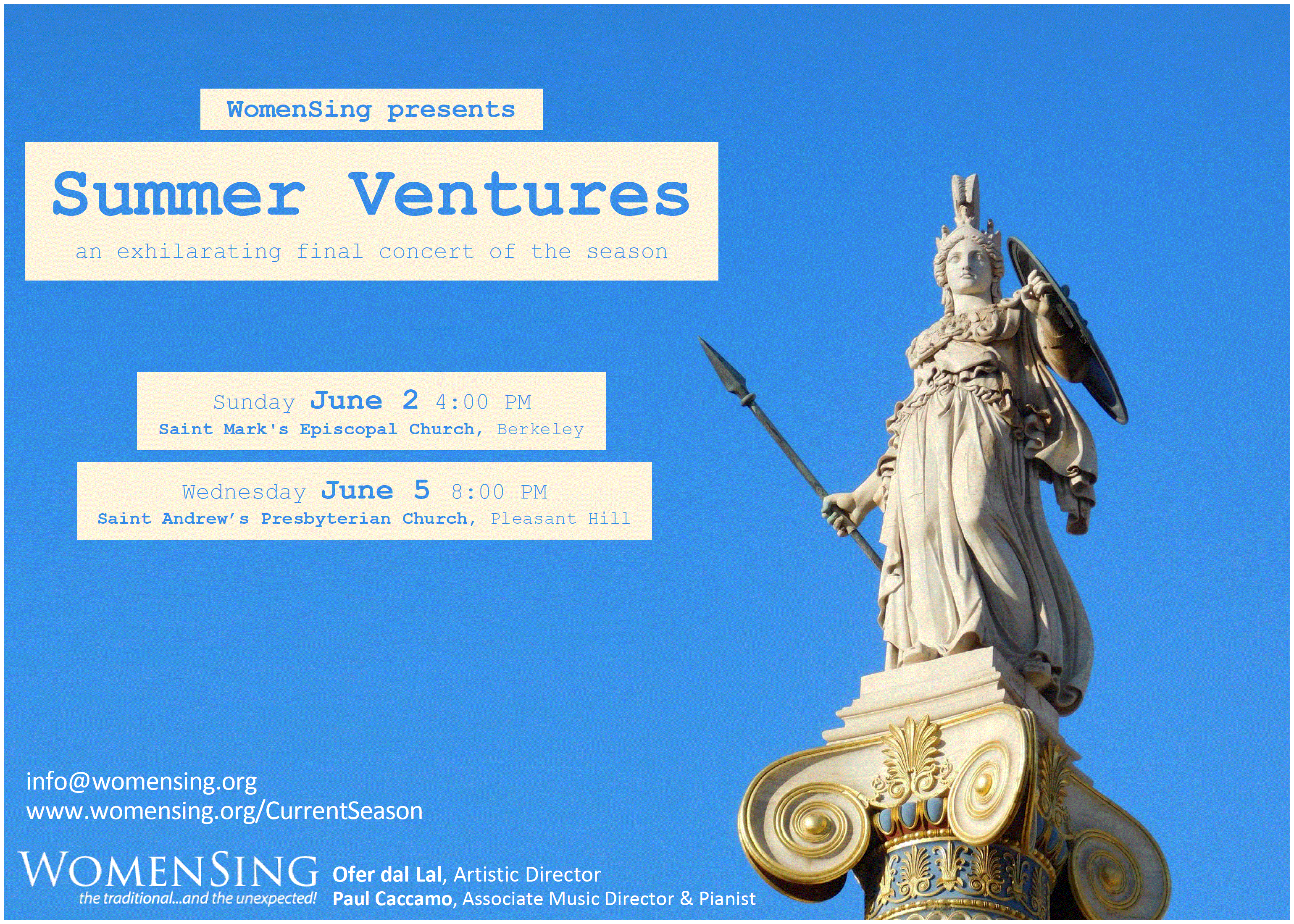 Summer Ventures
an exhilarating final concert of the season!

Sunday June 2 4:00 PM
Saint Mark's Episcopal Church, Berkeley
MAP  |  TICKETS
Wednesday June 5 8:00 PM
Saint Andrew's Presbyterian Church, Pleasant Hill
MAP  |  TICKETS
SUMMER TOUR - WomenSing in Greece!
A tour that includes sightseeing, great music, cultural exchange, and outreach.
July 7-15 with optional extension July 4-7
WomenSing Friends are invited to join! 
Write us for details: [email protected]