EarthRise
Our June concert is an ode to our planet. Inspired by the famous picture of Earth rising over the horizon of the moon, the concert will be titled EarthRise. Albeit offering a critical reminder on how humans treat this Earth and its inhabitants, the concert will conclude with an optimistic message of the power of compassion and peace.  
Sunday, June 3, 4:00 PM, First Congregational Church of Berkeley
Wednesday, June 6, 8:00 PM, St. Mary's Chapel, Moraga *
*  At St. Mary's Chapel all are welcome and no one will be denied entrance.  However, WomenSing is a non-profit so a suggested contribution of $28 would be appreciated to continue our more than 50 years of making music.
---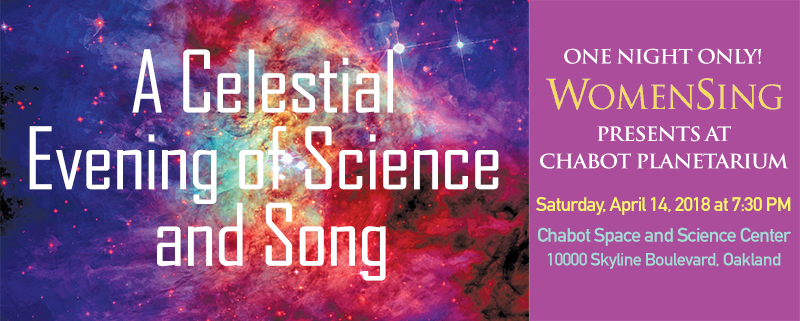 One Night Only!
WomenSing at Chabot
Saturday, April 14, 7:30 PM
Program includes musical performance in the starlit dome - presentation by astronomer with stunning visuals - dessert and wine reception following the performance
Musical selections include Latvian composer Eriks Ešenvalds' Stars, featuring the otherworldly sound of wine glasses used as musical instruments. The Dawn Is Not Distant, Canadian composer Christine Donkin, inspires hope combining words of American poet Henry Wadsworth Longfellow and a passage from Genesis 15 "suspice caelum et numera stellas " ("look at the heavens and count the stars"). Tim Sarsany's arrangement of Way Up There by Tena Clark,commissioned by WomenSing for this event, stirs the wonder of the universe and the human longing to explore. The song was originally written for NASA's Centennial of Flight observance in 2002.  
---

Exciting rhythms and noisy percussion spark our first concert with new Artistic Director, Ofer dal Lal. Join us in December as we celebrate the birth, renewal, and beginning that are associated with the season of Christmas, Solstice, and the New Year.    
Sunday, December 10, 4:00 PM, First Congregational Church of Berkeley
Wednesday, December 13, 8:00 PM, Santa Maria Church, Orinda
---
You are invited to our first

A community singing experience for all ages.
Families with children welcome!
No choral experience necessary!
Don't read music?  No problem!
Come experience and share with us the joys of singing in a comfortable, welcoming environment.
Ofer dal Lal, Artistic Director of WomenSing will lead participants in song.  All are Welcome.
Sunday, December 17th 3:00-4:00 PM
Berkeley Piano Club (2724 Haste St, Berkeley)
Suggested donation: $10
No one will be turned away.
---
* St. Mary's Chapel.  A voluntary offering may be requested provided that anyone wishing to attend without giving an offering is admitted.  Persons wishing to attend without giving any offering will be admitted to WomenSing performances held at St. Mary's Chapel.